Vikings fall to 49ers 17-7 in preseason game at U.S. Bank Stadium without starters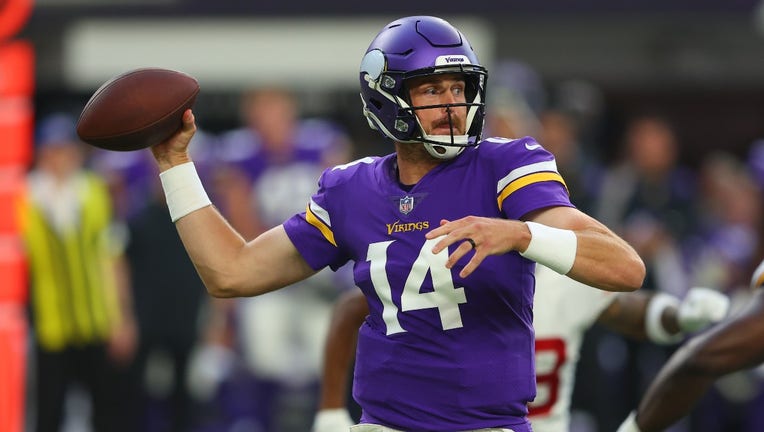 article
MINNEAPOLIS - Kevin O'Connell didn't take any chances with his potential starters as the Minnesota Vikings lost to the San Francisco 49ers 17-7 in their lone home preseason game at U.S. Bank Stadium Saturday night.
For that matter, neither did 49ers coach Kyle Shanahan. The Vikings did not play any offensive or defensive starters, and sat 27 players in total. That means we won't see Kirk Cousins, Adam Thielen, Justin Jefferson, Dalvin Cook, Danielle Hunter, Za'Darius Smith, Eric Kendricks, Harrison Smith, Patrick Peterson and other starters until Sept. 11 against the Green Bay Packers.
Shanahan followed suit, as the 49ers sat Marshall native Trey Lance, Jimmy Garoppolo, Deebo Samuel, George Kittle and Nick Bosa among all their starters and 27 players in total. The Vikings and 49ers held joint practices over two days this week at TCO Performance Center, where the first-team offenses and defenses for each squad got in enough work that both coaches felt it wasn't worth risking injury in a preseason game.
"Eighty-plus plays a little over 48 hours ago for our 1s against another team's 1s. I kind of planned long ago that we would handle this week like this. Our game reps took place at our facility this week in that competitive environment that we were able to bring in," O'Connell said.
Kellen Mond got the start at quarterback, and if he had the edge for the No. 2 spot going into the game, he took a step back Saturday. Mond finished 10-of-20 passing for 82 yards, was intercepted twice, sacked once and finished with a 21.3 rating. Sean Mannion entered on the final play of the first quarter, and led the Vikings' only touchdown drive of the first half. He went 4-of-4 passing on a drive that ended with rookie Ty Chandler scoring from three yards out. Mannion finished the night 10-of-15 for 65 yards and a 75.7 rating.
"I felt like both guys at times tonight had good rhythm and good command, we just couldn't make that one play, make that one throw, make that one play to kind of trigger and ignite the offense that we really needed," O'Connell said. "Ultimately we've just got to be better. We're trying to see who can come off the bench and help us win a football game. For the most part, we've just got to try to continue to improve and limit the turnovers, and see who can win this thing."
Both of Mond's interceptions were under thrown to their intended receivers, and the second came in the fourth quarter where he never saw safety Tayler Hawkins, trying to hit Jalen Nailor deep.
"Gave the safety an easy pick, so that was obviously a really bad mistake on my part," Mond said.
The Vikings have one preseason game left to figure out the No. 2 quarterback position. O'Connell was asked after the game if they're confident in Mannion and Mond to win the No. 2 job, or if that player isn't currently on the roster.
"Ultimately you would love to have come out of the night feeling like shoot, they both moved the team and scored a lot of points. We've got a heck of a hard discussion and conversation to have as a staff," O'Connell said. "In my mind, the clock is going. Although I feel like our starters are in a great spot for Sept. 11, and that's what our emphasis is really on, there's a lot of jobs we've got to still allow to still play themselves out so we feel good about the overall depth of our team. We'll certainly allow that to happen this week." 
After two sacks last week, T.Y. McGill had 2.5 sacks Saturday and nearly got to the quarterback on another play in the third quarter. He also blew up a play that caused a 49ers' fumble near the goal line. Patrick Jones II added a half sack.
The Vikings lost rookie defensive back Andrew Booth Jr. for the game to an ankle injury in the second quarter. Booth made three tackles before a non-contact injury, and he needed help from two trainers to get off the field. O'Connell said after the game it was an aggravation of an injury Booth already had that they knew of, and didn't sound overly concerned.
The Vikings finish the preseason Saturday, Aug. 27 at the Denver Broncos.