Winning ugly: Vikings survive, beat Lions 19-17 with Greg Joseph field goal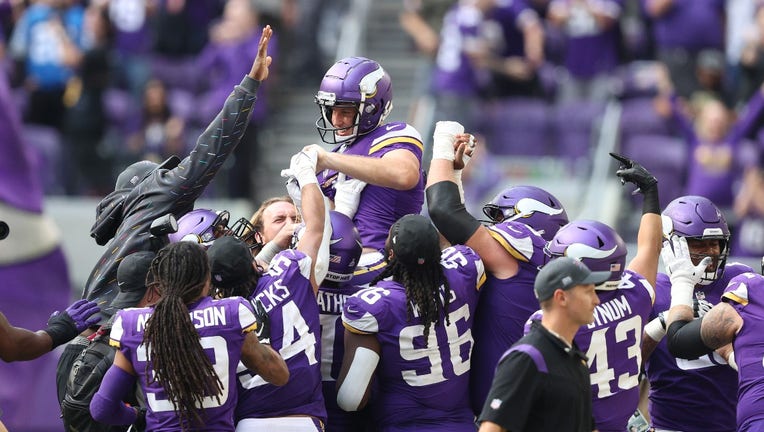 article
MINNEAPOLIS - The Minnesota Vikings on Sunday went from setting themselves up for an ugly win, to nearly losing to a winless Detroit Lions team before ultimately relying on their kicker for a walk-off victory.
Just the way Mike Zimmer and company drew it up on paper, or anything but. Alexander Mattison's fumble with less than two minutes to play set up D'Andre Swift's 7-yard touchdown, and a successful two-point conversion put the Lions up 17-16 with 37 seconds to play.
The Vikings responded, after the offense had been stagnant most of the second half, starting with the ball at their own 18-yard line. Kirk Cousins hit Adam Thielen, targeted once all game prior to the last drive, for completions of 21 and 19 yards. With three seconds left, Greg Joseph came on for a 54-yard field goal to win the game, with the Vikings down 17-16.
Joseph had missed short from 49 yards out with 3:22 to play, and from 37 yards out as time expired in Week 2 at Arizona for a walk-off loss. Sunday, in front of more than 66,000 fans at U.S. Bank Stadium, Joseph split the uprights from 54 yards out. The Vikings escaped with a 19-17 victory and improved to 2-3, but can't say they feel great about themselves after the win.
"Wasn't the prettiest of wins, but it was a win. We'll take it," Vikings coach Mike Zimmer said after the win. "I usually don't look. I'm usually saying if they're kicking, miss this 'blankety blank' and if we're kicking it, it's make this 'blankety blank.'"
Joseph didn't actually see the winning kick go through, but said it felt good off his foot and he was mobbed by teammates who carried him off the field.
"What an awesome feeling, so happy for the guys. Personally I don't need to be carried off, they deserve just as much credit as I do so I was like 'Put me down. They were like No!' Awesome feeling, happy for everyone in the stadium. To hear that stadium roar was amazing," Joseph said.
In the moment, cameras caught Cousins and Zimmer sharing a celebration that looked nothing if not awkward as they each shoved each other.
"I was just celebrating with him. I was just fired up," Cousins said.
The reality for the Vikings is there remains plenty to fix after their second home win in three weeks. Mattison, starting for the injured Dalvin Cook, finished with 153 total yards. He had 113 on the ground, and the Vikings' only offensive touchdown of the day with 2:20 to play in the first half on a 15-yard pass from Cousins where he fought his way to the goal line. But he also fumbled with less than two minutes to play in regulation, and the Vikings leading 16-9.
Swift scored, the Lions converted a two-point try and had the lead with 37 seconds left. The fact that the Lions had that chance to begin with had Vikings' fans booing throughout the second half, and the coaching staff likely taking heat had they not answered back.
Zimmer and the Vikings had a chance to score points before the end of the first half, already up 13-6, with 41 seconds left and two timeouts. But instead, they opted to run the clock out as fans voiced their displeasure.
"I shouldn't have to explain all this to you, but the plan was to run the ball the first play, see how much yards we get and then go from there. We got no yards, so that was that," Zimmer said.
The Vikings' offense grinded to a halt in the second half, with the first four series resulting in three 3-and-outs and a Cousins' interception. KJ Osborn wasn't looking for a pass headed his way, it bounced off his helmet and found a Lions defender.
The Vikings' defense allowed 288 yards, 108 on the ground and 4.5 yards per carry. But they turned over Jared Goff twice, collected four sacks and limited the Lions to 3-of-11 on third down. Everson Griffen and Danielle Hunter combined for a strip sack on Goff in the first quarter, and Eric Kendricks made a one-handed interception in the third quarter to end a potential Lions' scoring drive.
"I'm just happy we got the win, to be quite frank. When we win, it takes care of everything, the mistakes, everything. Winning trumps it all. We get a W, we're 2-3 now so that's all that matters to be honest with you," Griffen said.
Joseph made four field goals on the day, but the end result didn't have to be that interesting if the Vikings had opted to be more aggressive on offense. Justin Jefferson finished with seven catches for 124 yards, but had just two catches in the second half. Receivers not named Jefferson and Mattison had a combined 11 catches for 111 yards.
Just as puzzling as some of Minnesota's play-calling, Lions' coach Dan Campbell opted to punt on 4th-and-4 with 9:41 left in the fourth quarter at the Vikings' 42. Detroit trailed 13-6 at the time, and they took a delay of game penalty before kicking it away.
In his first game back in 13 months, Anthony Barr played every defensive snap and finished with four tackles. Christian Darrisaw also made his 2021 debut, playing left tackle on the offensive line for the only touchdown of the game. He also got at least two series in the second half, and didn't give up any pressures on Cousins.
It was anything but pretty, but it was a win the Vikings badly needed to avoid going 1-4 heading to Carolina next week. Instead, they're 2-3 and can get back to .500 before their bye week with a win over the Panthers.
"They're all important, they all count as one and just got to stack up as many as we possibly can," Cousins said.
Zimmer has said multiple times this season he believes the 2021 Vikings are a good football team. Sunday, they played not to lose against an 0-4 team that had multiple starters out injured. A win is a win and they don't have to apologize for it, but it almost feels like a loss.
"I just think we're going to get back to work. Regardless of whether we lost or won, I know how we operate," Kendricks said. "We're going to come back to work, we're going to get it right."