Dan Bailey misses 4 kicks, Vikings lose at Tampa Bay 26-14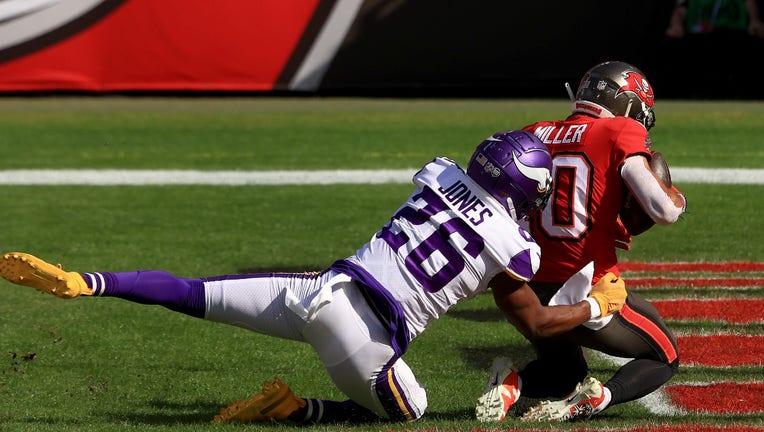 article
MINNEAPOLIS - The Minnesota Vikings are seeing their NFC Playoff chances slip away, and after Sunday's 26-14 loss at Tampa Bay, the team might be searching for a new kicker next week.
Dan Bailey missed four kicks, an extra point and three field goals, that would've had the Vikings ahead in the fourth quarter at Raymond James Stadium. Instead, Minnesota drops to 6-7 on the season and needs to win its final three games to have any chance at the playoffs.
Mike Zimmer was asked directly after the game if there are plans to change kickers next week.
"I don't know, I'm really disappointed. I have a lot of faith in him, I have a lot of confidence in him but these last two weeks have not been good. I love the kid, he's a great kid, he's very even-natured. I don't know," Zimmer said.
Bailey has now missed seven kicks the last two weeks. In addition to missing a 33-yard extra point wide left on Minnesota's first touchdown in the second quarter, Bailey missed field goals from 46, 54 and 36 yards out, all pushed to the right. He entered the game having made 26 of his last 27 extra points. Bailey is in his third season with the Vikings, and it's fair to wonder if a change is coming.
Zimmer is not patient when it comes to kickers. We've seen it with Blair Walsh, and Daniel Carlson was cut just two games into his rookie season.
"We'll have to decide that as we move forward. At this point in time we're not really worried about feelings anymore," Zimmer said.
It spoiled a day where the Vikings ran for 162 yards against the No. 1 rushing defense in the NFL, led by Dalvin Cook's 102 yards on 22 carries. Kirk Cousins, despite getting sacked six times and facing pressure throughout the day, threw for 225 yards and a touchdown, and ran for a season-high 41 yards.
As the quarterback, Cousins knows what it's like to take heat after a loss and feels for Bailey.
"We win as a team, we lose as a team. This league will test you no matter what positon you play. It's one day," Cousins said. "It wasn't one season or career, it was one day and Dan has done so many great things for us this season and made a lot of big time kicks. You don't ever want to make a bigger deal out of one day than it needs to be."
The Vikings scored first on Cook's 1-yard run on the second play of the second quarter. Bailey hooked the extra point left, then pushed a 36-yard field goal right that would've given the Vikings a 9-0 lead. Tom Brady took advantage, hitting Scotty Miller on a 48-yard touchdown to give the Buccaneers a 7-6 lead. Miller beat Chris Jones, and Anthony Harris was nowhere to be found with safety help.
Bailey missed wide right from 54 yards out with 4:42 left in the half, setting up another Tampa Bay touchdown drive after the Vikings were hit with a couple of questionable defensive penalties. Harrison Smith was flagged for a helmet-to-helmet hit, then Jeff Gladney had his first interception negated by a pass interference penalty.
Ronald Jones scored from 1 yard out, giving Tampa a 14-6 lead.
"I thought it was a clean play. Control what we can control, things like that are going to happen in a game so just gotta let it go," Gladney said.
Tampa got the ball back after a Vikings' 3-and-out, and on a Hail Mary to end the first half, the Vikings got called for pass interference in the end zone. The Buccaneers got a field goal out of it to lead 17-6 at the half. That's 17 points on self-inflicted wounds.
"I just know the two calls changed the complexion of the game,' Zimmer said.
Brady hit Rob Gronkowski for a short touchdown to open the third quarter, giving Tampa a 23-6 lead. The Vikings answered, with Cousins hitting Irv Smith Jr. for a 14-yard touchdown. A successful two-point play to Justin Jefferson got them within 23-14.
Bailey's final miss of the day, from 46 yards out in the fourth quarter, proved to be too much to overcome. A veteran who has made plenty of big kicks before broke down in a game with playoff implications. Now, the Vikings might have a decision to make on their kick going forward with three games left.
"I don't know right now, so we'll just have to make a decision and go with it. I like the kid a lot, I've had tons of confidence in him. He's had a very good year, he's had a couple bad weeks now," Zimmer said.
Without Eric Kendricks, the Vikings held Tampa Bay to 303 total yards.
The Vikings fought their way back from a 1-5 start to win five of six and be in the NFC Playoff conversation. After Sunday's loss, they now have to beat the Bears, Saints and Lions to have a chance.
"Frustrating loss today, always disappointing when you lose. The last three weeks become critical, as every week is, but we don't have a lot of room for error now," Cousins said.
The kicker was the ultimate difference in Sunday's outcome, with Bailey going 0-for-4. Ryan Succup made both of his field goals, including the game-clincher from 48 yards out with 5:15 to play, and finished 2-of-3 on extra points.
Zimmer wouldn't put it all on Bailey after. Bailey, who is among the most accurate kickers in NFL history, did not speak with reporters after the game.
"If you guys want me to fire guys for making a mistake here, a mistake there, then we wouldn't have any players. Let's not put this all on Dan Bailey," Zimmer said.