Vikings commit 3 turnovers, give up late TD in 21-20 loss to Broncos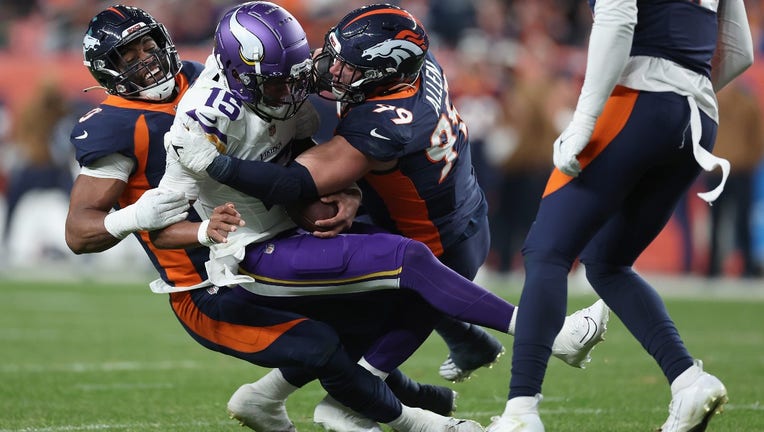 article
MINNEAPOLIS (FOX 9) - The Minnesota Vikings win streak came to an end at five games after a 21-20 loss to the Denver Broncos on Sunday Night Football, and it's largely due to self-inflicted mistakes that were an issue early in the season.
The Vikings turned the ball over three times, and a defense that held the Broncos to five field goals broke down on its final possession. Minnesota led 20-15 with 3:17 to play, but Russell Wilson drove the Broncos down the field and hit Courtland Sutton for the game-winning touchdown from 15 yards out with 1:03 to play. Sutton made a leaping grab over rookie Mekhi Blackmon in coverage.
"It looked like we were in position. He's a pretty darn good player, big target and that's where you let them get down there in scoring range, all it takes is one pitch and catch and they take the lead," Vikings coach Kevin O'Connell said after the loss. "I know our defense hoped to try to get a stop there and not let it get to that point."
Joshua Dobbs was 20-of-32 for 221 yards and one touchdown, and ran eight times for 21 yards and a score. But he was also responsible for two of the three Vikings' turnovers. Alexander Mattison had 18 carries for 81 yards, but also lost a fumble. The Broncos turned those three takeaways into nine points, and they now have 12 takeaways in their last three games.
Mattison's fumble came as the Vikings were driving in Denver territory late in the third quarter, and a touchdown would've made it a 24-9 lead.
"We've learned this lesson before. Playing good football teams, you can't give them three extra opportunities. We do not have the margin of error to waste plays," O'Connell said. "It's a winning and losing stat in this league, no matter what you do on every other play in the game, you're just setting yourself behind and having to overcome."
Dobbs became the first Vikings' quarterback to throw and run for a touchdown in three straight games since Daunte Culpepper in 2002. Dobbs accounted for 243 yards, but lost a fumble in the first quarter on an option pitch from T.J. Hockenson on a trick play, and was intercepted early in the fourth quarter on a play where he was hit as he threw.
Dobbs and the Vikings had one last chance with 63 seconds to play and three timeouts to get Greg Joseph in range for a game-winning field goal, but went backwards after a penalty for intentional grounding. Facing a 4th-and-25, Dobbs' pass over the middle fell incomplete, sealing a win for the Broncos.
The Vikings ran for a season-high 175 yards, averaged nearly five yards per carry and got 73 from Ty Chandler, but giving away the football cost them their seventh win of the season. The Vikings are fifth-worst in the NFL with a minus-6 turnover margin. Their nine interceptions are 13th in the NFL, they're eighth with 15 fumbles and second-worst in the league with 20 giveaways. In their five losses this season, the Vikings have lost the turnover battle 13-2.
"It came down to turnovers. We talked about it going into the week, this is a team that thrives off turnovers. We lost the turnover battle 3-0. At the end of the day, it's hard in this league to go on the road and win. It's even harder when you don't take care of the football like you're supposed to," Dobbs said.
Minnesota's defense allowed 295 total yards, just 13 first downs and held the Broncos to 2-for-11 on third down, but the only touchdown they allowed all night was the difference. Another game-changing play? Josh Metellus couldn't hang onto an interception in the end zone late in the first half. It allowed Denver to get a field goal and trim the Vikings' lead to 10-9 at the break.
The Vikings drop to 6-5, and the Detroit Lions have firm control of the NFC North Division after beating the Chicago Bears on Sunday to improve to 8-2.  The Vikings host the Bears next week on Monday Night Football, and the hope is that night marks the return of star receiver Justin Jefferson.
"We've been through adversity all season, and losses like this just remind you how close we are, how much of a team we are, how much we can lean on each other and still have confidence going into the next week that we're going to get it done," Metellus said. "We feel like we let the organization down, but the mentality and the brothership is really strong. We're going to see our way out of this."