Royce Lewis, Pablo Lopez end Twins 18-game playoff skid with 3-1 win over Blue Jays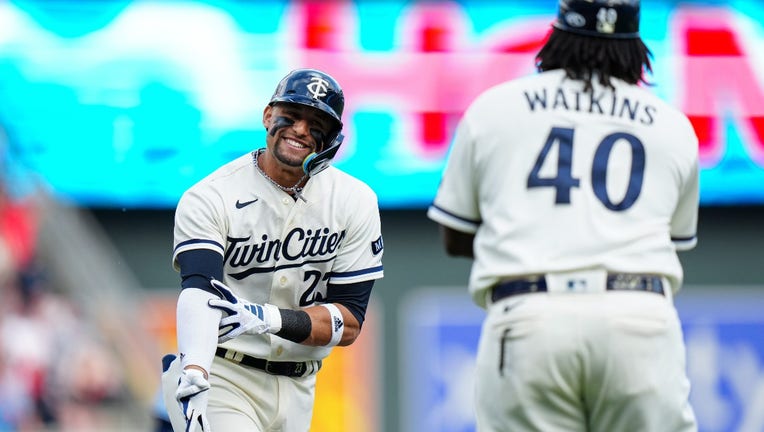 article
MINNEAPOLIS (FOX 9) - Royce Lewis's hamstring is good enough to play, and the Minnesota Twins' postseason losing streak is over at 18 games and 6,937 days.
Lewis, the No. 1 overall pick in 2017, made history Tuesday as the Twins opened the American League Wild Card Playoffs with a 3-1 win over the Toronto Blue Jays in front of 38,450 fans on a warm October afternoon at Target Field. Lewis hit a pair of home runs, including a two-run shot to left in his first career playoff at-bat.
Lewis wasn't totally sure he'd be on the playoff roster until he got to the ballpark. He said after the win he got a text from Joe Mauer Tuesday morning, telling him to take in the moment.
"That was a God thing, I'm just blessed to be a part of it. It felt like I was blacked out the whole game," Lewis said. "Especially those moments when I was on the field, my heart was racing. That's just the human nature of it. When you have 40,000 people cheering, it was special."
He became the first Twins' player since Gary Gaetti in the 1987 American League Championship Series to have a multi-home run game in his first playoff game. He's just the third player to do so in Major League Baseball history, and first since Evan Longoria in 2008. It's also his first two-homer game at the big league level.
"I've tried to stretch my vocabulary and drop all the great adjectives. I can't believe sometimes the things that he's doing, they're that impressive. He's a special player," Twins manager Rocco Baldelli said.
The Target Field crowd was electric from the first pitch, and Baldelli said it made a difference in the outcome. Twins' fans could celebrate the franchise's first playoff win since 2004, marking an end to 19 years of misery and disappointment, at least for one day. Toronto starter Kevin Gausman was rattled early, needing a first inning mound visit and changing out baseballs with regularity, even having issues with his pitchcom device, on the way to allowing three earned runs in four innings.
"The fans here support this organization through and through. They love the team, and they want to enjoy things like what they just saw at the ballpark today. I thought the place was going to split open and melt," Baldelli said. "It was out of this universe out there on the field. The fans took over the game, they helped us win the game."
Lewis was one of the few Twins' players in pregame introductions to hype up the crowd, then sent a laser over the left field wall in the first inning to give Minnesota a 2-0 lead. He added a solo blast to right center in the third to make it 3-0. He was put at the designated hitter spot for Game 1 against the Blue Jays as he works his way back from a hamstring injury.
Both he and Carlos Correa were put on the Wild Card roster, while Byron Buxton was not. Correa made his impact in the top of the fourth. With two out, Jorge Polanco whiffed on a Kevin Kiermaier ground ball at third. Correa darted over to grab it, and threw out Bo Bichette trying to score Toronto's first run. Bichette ran through a stop sign, and the scoring threat was over.
"The play that Carlos Correa made, that should be shown everywhere, over and over again. You never practice that play, ever. It's just a hell of a baseball play," Baldelli said. "If you like watching the biggest players making the biggest plays in the biggest games, then you should go watch that play."
Lewis's bat was enough for Pablo Lopez, who went 5 2/3 innings and allowed just one run on five hits while striking out three and walking two. He had 62 of his 93 pitches go for strikes, and left to a well-deserved standing ovation with two out in the sixth after Kiermaier lined a single to center, scoring Bichette.
Lopez is the first Twins' starter to win a playoff game since Johan Santana. Lopez walked into Target Field sporting a No. 57 Santana jersey.
"Game 1 of any series is the most important one. You want to set the tone," Lopez said. "The Santana jersey thing, some people believe in fate, sometimes some things line up too perfectly to pass on those things. I was just happy to do my part."
Michael A. Taylor made a great catch at the wall to end the sixth inning with the tying run at first, and had a diving catch early in the game. Caleb Thielbar took care of the seventh, Griffin Jax did his job in the eighth and Jhoan Duran got two strikeouts and a groundout in the ninth to end the longest playoff losing streak in North American sports history.
The Twins lead the Blue Jays 1-0 in the best-of-three series, and can close it out with a win on Wednesday.