Minnesota Twins reveal Joe Mauer hall of fame ceremony details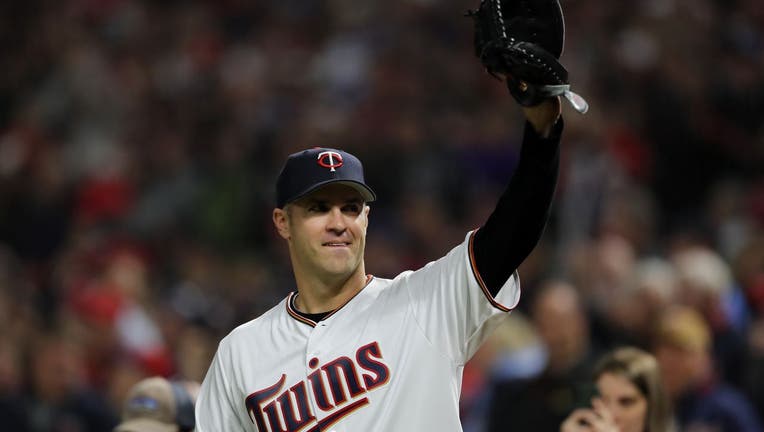 article
MINNEAPOLIS (FOX 9) - A momentous event for Minnesota Twins fans as Joe Mauer is being inducted into the Hall of Fame next week.
A St. Paul native, the legendary former Twins player spent his entire career representing his home state in Major League Baseball, being the top overall selection in the 2001 draft. His legacy within Minnesota and beyond will forever leave a historically and culturally significant impact on the sports community. 
To commemorate his dedication to the sport, celebrations will take place for Mauer's induction to the Hall of Fame on Aug. 4-5 at Target Field when the team hosts the Arizona Diamondbacks. Mauer will be officially inducted in a special pregame ceremony on Saturday, Aug. 5.
Seventeen members of the Twins Hall of Fame are scheduled to be in attendance during the celebrations, including: Jerry Bell, Bert Blyleven, Rod Carew, Jim Kaat, Ron Gardenhire, Greg Gagne, Dan Gladden, John Gordon, Eddie Guardado, Kent Hrbek, Tom Kelly, Justin Morneau, Joe Nathan, Tony Oliva, Jim Perry, Jim Rantz and Johan Santana. Some of Mauer's former teammates will also be making an appearance. Among them: Brian Dozier, Brian Duensing, Jason Kubel, Carl Pavano, Trevor Plouffe, Nick Punto and Josh Willingham.
Here's a list of events to mark the Hall of Fame celebrations: 
Twins Hall of Fame Golf Tournament on Friday: Fans can join their favorite Twins Hall of Famers for the inaugural Twins Hall of Fame Golf Tournament. The event will kick off with a 7:30 a.m. shotgun start at Rush Creek Golf Club in Maple Grove, and entry fees include green fees and carts, breakfast, refreshments on the course, a post-tournament lunch, gifts, awards and other prizes. Each foursome will be paired with a Twins legend and all proceeds from the event will benefit the Minnesota Twins Community Fund. Spots are still available; more information can be found here.
Fan Photo Opportunity – Joe Mauer: Fans will have an opportunity to have their picture taken with Joe Mauer from 5:15-5:45 p.m. Friday inside Gate 29.
Gate Giveaway on Saturday: The first 10,000 fans in attendance will receive a Joe Mauer Twins Hall of Fame Commemorative Pin.
Joe Mauer Digital Ticket Giveaway: All fans in attendance for the Twins vs. Diamondbacks game on Saturday, Aug. 5 will receive a digital commemorative ticket courtesy of the Twins and Candy Digital, a next-generation brand engagement platform; the digital memorabilia features images from Mauer's iconic final big-league game on Sept. 30, 2018.
Ceremonial First Pitch on Saturday: Mauer's children, Emily, Maren and Chip, will each throw out a ceremonial first pitch, caught by their father.
Target Ball Kid/Play Ball Kids on Saturday: Joe's son, Chip, will deliver the ball to the mound as the Target Ball Kid before joining his sisters Emily and Maren as the Play Ball Kids.
Joe Mauer Twins Hall of Fame Induction Ceremony: Joe Mauer, one of the most legendary names in Twins history, will be formally enshrined in the Twins Hall of Fame in a pregame ceremony. Longtime Twins television play-by-play announcer Dick Bremer will serve as emcee, while Twins Hall of Famer and Mauer's former teammate, close friend and the other half of the "M&M Boys," Justin Morneau, will formally introduce Mauer as the next member of this prestigious group.
Tickets and more information on events that weekend are available on the Twins website.