Timberwolves blow 23-point 2nd half lead in 104-95 Game 3 loss to Grizzlies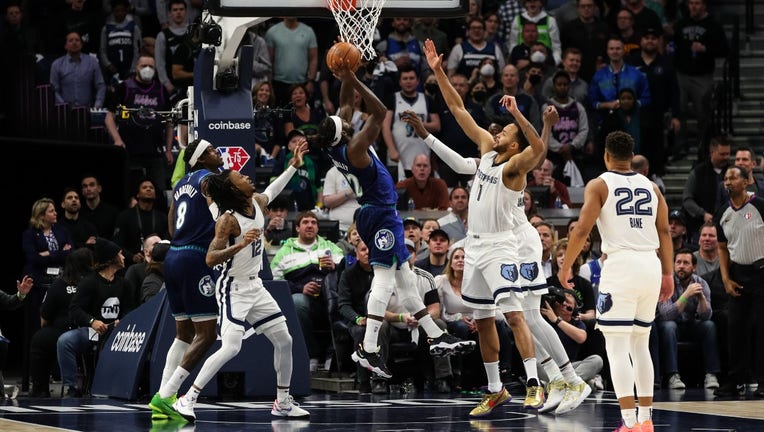 MINNEAPOLIS - The Minnesota Timberwolves had the perfect recipe Thursday night to prove they could change things for their franchise in the NBA Playoffs.
A sellout crowd at Target Center that was as loud as it's been in 20 years. The Timberwolves scored the game's first 12 points, led 51-29 in the second quarter and led by 23 points with three minutes to play in the third quarter. Then, everything went to hell. The Memphis Grizzlies closed the game on a 50-13 run, and the Timberwolves had a late meltdown in a 105-94 Game 3 loss.
The home court advantage the Timberwolves had after a Game 1 win in Memphis? Gone.
The Timberwolves scored just 12 points in the fourth quarter. Memphis scored 37, including a 21-0 run.
"You have to give them credit. They stayed in the fight, they kept swinging. They didn't let go of the rope. This is a learning lesson," said guard Patrick Beverley, who finished with 14 points. "A 12-point second quarter, a 12-point fourth quarter is unacceptable. It looked bad, but it doesn't feel as bad as it really was."
Memphis now leads the best-of-seven series 2-1, and the Timberwolves need a win Saturday night in Game 4 to avoid an elimination scenario in Memphis next week.
"Obviously disappointed but we've got Game 4, so we're not going to let this game affect that one for sure. We'll be fine. We created two big leads, we've just got to hold them," Timberwolves coach Chris Finch said.
Most concerning for the Timberwolves? Their star player and face of the franchise, Karl-Anthony Towns, was non-existent in another playoff game. Towns struggled with foul trouble again, and finished with just eight points, five rebounds and five blocks. He took four shots in 33 minutes, and committed five fouls. He cut a reporter off post game when asked about the four shots, the lowest in his career.
"Next question," Towns said.
He was later asked how he'll try to keep his teammates positive, and not let Thursday's result linger. He referenced former franchise star Kevin Garnett with his answer.
"Like KG said, you never lose, you learn," Towns said. "Go home and drink some wine, move onto the next day. Just decompress."
Finch said after the loss they have to do a better job of getting Towns shots, but credited the Grizzlies for their defense.
"They swarm him everywhere. Three in the post, at the top of the key they're in on him. We've got to find him in the flow and that's just how it has to be," Finch said.
The Timberwolves led by 27 at one point in the second quarter. The Grizzlies ended the half with a 15-0 run to get back in the game, trailing 51-44. In the last 5:45 of the second quarter, and nearly the first three minutes of the third, the Timberwolves didn't make a shot from the field. They eventually went on a 17-4 run to take back control, and after a Jaden McDaniels 3-pointer, led 73-50.
The Grizzlies answered, and cut it to 83-67 heading to the fourth. They scored the first 16 points of the fourth quarter, tying the game 83-83. Apple Valley native Tyus Jones gave Memphis its first lead of the night with less than seven minutes to play on a 3-pointer.
"Everyone makes their run, theirs just happened to be in the fourth quarter at a time we didn't want it to be," Beverley said.
Losing 20-plus point leads is not a new concept for the Timberwolves, it's happened plenty of times in the past. But Thursday's loss, in a playoff game with a chance to grab control of the series as another home game looms Saturday, is potentially devastating.
It had fans on social media comparing the outcome to the Minnesota Vikings 1999 NFC title game loss to Atlanta, the 2010 NFC title game loss at the Saints after a penalty for 12 men in the huddle after a timeout and the Gophers' football team losing to Michigan in 2003, among many painful losses in Minnesota sports history.
We'll find out Saturday night if the Timberwolves have a short memory.
"Stick with each other, stick with what got us here, believe in what we've done all year and continue to believe in it through ups and downs like this. This one hurts a lot," Towns said.
D'Angelo Russell led Minnesota with 22 points on 9-of-21 shooting, including 4-of-8 from the perimeter, and added five rebounds and eight assists. Anthony Edwards added 19 points, along with Beverley's 14.
Desmond Bane led the Grizzlies with 26 points. Brandon Clarke added 20.
The Timberwolves get at least one more chance to play in front of their home crowd Saturday night. They can either even the series 2-2 with a win, or they'll head to Memphis next week with their season on the line.