'Culture vs Skill': Gophers beat Nebraska 30-23, improve to 4-2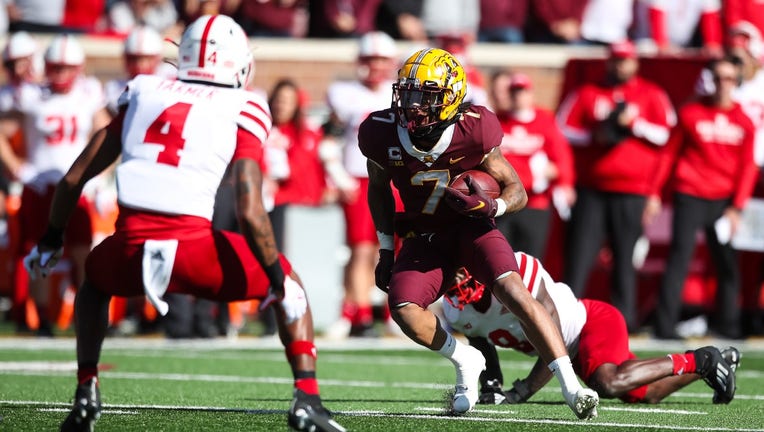 article
MINNEAPOLIS - University of Minnesota football coach PJ Fleck spent about 17 minutes with reporters after the Gophers beat Nebraska 30-23 on Saturday in front of more than 45,000 fans at Huntington Bank Stadium.
In those 17 minutes, he used the word "culture" 18 times to reference how close and connected his team is after their fourth win of the season. The Gophers, without their top two running backs, got big first halves from Tanner Morgan and Chris Autman-Bell, and a big second half from the defense in their third straight win over the Cornhuskers.
"That was a really important win for us. That was truly culture versus skill. That's what I saw today," Fleck said. "Whatever anybody else wants to say about us or our program or our culture, feel free. We've been called every name in the book, but culture versus skill."
That's perhaps a message back to Scott Frost, who said at Big Ten Media Days over the summer he doesn't care for "sloganeering." Fleck has been all about his slogans and mantras since coming to Minnesota in 2017.
Morgan finished 20-of-24 passing for 209 yards, touchdowns to Michael Brown-Stephens and Chris Autman-Bell, and two interceptions. Autman-Bell had 11 catches for 103 yards, including an acrobatic touchdown on a fade from Morgan with a defender draped all over him that gave the Gophers a 21-9 lead with less than two minutes to play in the first half. Morgan completed 16 straight passes at one point, a school record which is also the third-highest in Big Ten history.
Autman-Bell, who has battled an ankle injury most of the season, had his best game of the year.
"I'm just grateful to have the trust from Tanner to throw it up every time, no matter the play. It's just having the mindset, I gotta come down with it every time. I've seen it a couple times, it was actually a cool catch," Autman-Bell said.
Maybe most impressive was Bryce Williams. With Mo Ibrahim and Trey Potts out for the season, the redshirt junior got the nod and finished with 17 carries for 127 yards, including a 56-yard touchdown that gave Minnesota a 30-16 lead with 2:21 to play. It was his best game since the Gophers won at Wisconsin in 2018.
The Gophers ran for 182 yards on Nebraska. Fleck said he had a button on the coffee table in his office out all week that Williams' mom gave him when he committed.
"Pulled that out this week, put that on my desk and just let it sit there. I knew he was going to have a big week for us," Fleck said.
Minnesota's first score of the game came on a gutsy call on 4th-and-inches from the 5-yard line. Wildcat quarterback Cole Kramer faked the run, and hit an open Brevyn Spann-Ford for a touchdown.
Morgan did the rest in the first half, and the defense took over in the second half after Morgan threw consecutive interceptions, the second of which led to a Nebraska touchdown that got them within 21-16 with 9:29 left in the third quarter.
The Cornhuskers had a chance to grab the lead on a 4th-and-goal from the 1-yard line on the next drive, but Tyler Nubin tripped up Jacquez Yant just short of the goal line for a turnover on downs.
"We knew we had to go down there and bow up. We knew they were going to try to run it in. Just got to have some pride, bow our chest out and go make a play," linebacker Jack Gibbens said. "That was awesome, Tyler made a great play."
The Gophers limited quarterback Adrian Martinez, Nebraska's top rusher, to -17 yards on the ground and got sacks from Esezi Otomewo and Nyles Pinckney.
With the game on the line in the fourth quarter, Otomewo pressured Martinez in the end zone and forced an intentional grounding penalty for a safety. It gave Minnesota a 23-16 lead before Williams' long touchdown run.
"Joe Rossi and his staff executed the game plan to perfection. Just proud of the defensive performance," Fleck said.
Martinez hit Austin Allen for a late score to get Nebraska within 30-23, but Brady Boyd recovered an onside kick and Williams ran for a first down to put the win away for the Gophers. It was a rare day where the Gophers lost the "78 percent," losing the turnover margin and explosive plays, but still won the game. 
They responded to in-game adversity and let the culture do its job.
"We lived in the 22 percent world today and we won, that's the sign of a really good football team," Fleck said. "To find a way to finish that game, really inspiring for our football team."
After an inexplicable 14-10 loss to Bowling Green three weeks ago, the Gophers now have wins at Purdue and against Nebraska. They're 4-2, 2-1 in the Big Ten with Maryland coming to town next weekend. They look like a completely different team than three weeks ago.
"With all due respect to Bowling Green, I was probably the worst coach I've been in five years. I had to look myself in the mirror and say, you were awful, and how am I going to be better?" Fleck said "I give my boss (AD Mark Coyle) a lot of credit because in those moments, it's kind of him and I in a room, just us. He just says 'Now we Row.' "It's pretty cool to have support like that."
Fleck now has three straight wins over Frost, and is 4-1 over five seasons with Minnesota. It all comes back to culture.
"Culture, culture, culture. Everybody knows I'm a very big culture guy. What do I define culture as? Connecting people. That team is connected. Win or lose, they're connected and that's why they're fun to coach," Fleck said.