Gophers' defensive effort 'unacceptable' in 49-30 loss at Purdue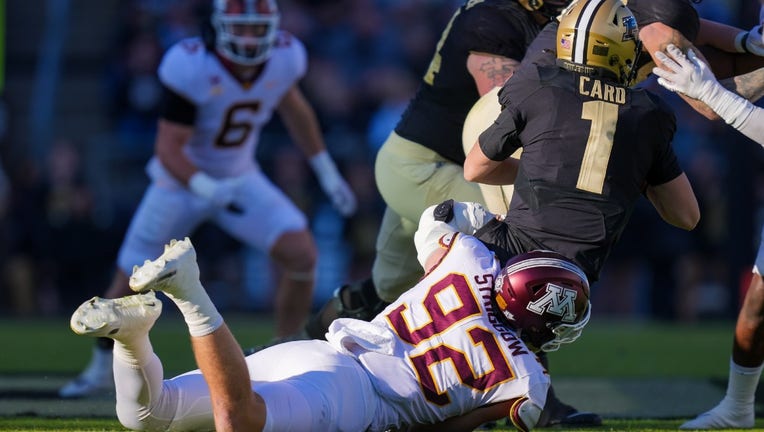 article
MINNEAPOLIS (FOX 9) - The University of Minnesota football team entered Saturday's game at Purdue needing two wins in its last three games, and getting help from Iowa, to have any chance in what's likely the final year of the Big Ten West.
Not only are those hopes gone after a 49-30 loss to the Boilermakers, but the Gophers need a win either at Ohio State or against Wisconsin in the last two games to ensure the 2023 season ends with a bowl game. Saturday, it was Minnesota's defense that had its worst outing of the season. A Purdue team that came in with two victories, was on a four-game losing streak and had scored at least 20 points once in its last six games found the end zone seven times against the Gophers. That includes their first four possessions.
The Boilermakers averaged eight yards per carry, and nearly nine yards per play. Minnesota was without linebacker Cody Lindenberg for the eighth time this season, and lost Maverick Baranowski to injury in the first quarter. That left Devon Williams, Tyler Stolsky and Matt Kingsbury as the linebackers.
"What were the issues? Everything. Listen, there's no excuses. We're decimated right now the linebacker position. We've got some guys playing that position right now that haven't played college football," Gophers coach P.J. Fleck said after the loss. "We had to stay healthy at that position to have success on defense this year. We didn't. Defensively, 600 yards of offense, that's not good enough. That's completely unacceptable, period. Any way you slice it, cut it, there is no silver lining in 600 yards of offense."
Minnesota drops to 5-5 overall, and 3-4 in Big Ten play with two games left.
Hudson Card was 17-of-25 passing for 251 yards and three touchdowns. Devin Mockobee had 14 carries for 145 yards and a touchdown. Tyrone Tracy had 15 carries for 122 yards and two scores. Purdue ran for 353 yards and four touchdowns on the day. Needing a win to secure bowl eligibility, the Gophers allowed 604 total yards. They entered the day in the top-20 in rushing defense.
"Tonight was not fun. I know it was not fun for our players, I hurt for our players. That's a hurt locker room. They give everything they have, we're 5-5 and 0-1 in the Purdue season," Fleck said. "We've gotten everything we deserved this year. That's kind of the story of our football season this year is just everybody being inconsistent. That ultimately falls on me."
Athan Kaliakmanis was 18-of-42 passing for 292 yards and three touchdowns -- to Brevyn Spann-Ford and Chris Autman-Bell in the first half, and Elijah Spencer with 2:37 to play.
There were a few curious decisions by Fleck in the loss, and among the most glaring was one with 10:38 to play. Down 42-20 and facing a fourth down in Purdue territory, Fleck opted for a Dragan Kesich field goal to cut the deficit to 19 points.
In a season of being very close to success and still with plenty to play for, the Gophers played their worst game of the season and got blown out by a two-win Purdue team. The Boilermakers got touchdowns on plays of 20, 24, 52 and 42 yards. Another score came from short yardage after Mockobee took a carry 65 yards to the 1-yard line. There were blown coverages, missed tackles and missed fits in the run defense.
"It was just our execution at the end of the day. They out-executed us with their offense. At the end of the day we didn't handle what we were supposed to do," defensive lineman Jalen Logan-Redding said. "They ended up capitalizing on it, and it showed in a major way."
Next up for the Gophers? A trip to Columbus to face No. 1-ranked Ohio State. Iowa clinched a share of the Big Ten West title with a 22-0 win over Rutgers on Saturday. The Gophers still need one more win to become bowl eligible.
"Bad game. Not a bad life, not a bad program, not a bad team. Just a bad game. Unfortunately it all kind of unraveled for us a little bit tonight," Fleck said.