Minnesota defeats New Mexico St. 48-10 in QB Annexstad's debut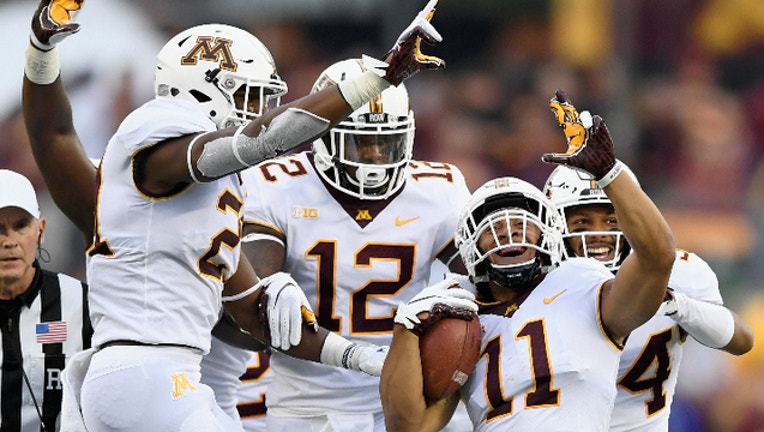 article
MINNEAPOLIS (AP) -- True freshman walk-on Zack Annexstad threw two touchdown passes to Tyler Johnson in his debut, and Minnesota opened the season by overwhelming New Mexico State in a 48-10 victory on Thursday night.
Antoine Winfield Jr. pitched in the first punt return for a score by the Gophers in five years, a 76-yard zigzag through an Aggies coverage unit that missed six tackles during the play. Winfield's was the third of four straight touchdowns for Minnesota in the second quarter.
Backup wide receiver Seth Green scored twice on direct snaps inside the 10-yard line, a clever twist from offensive coordinator Kirk Ciarrocca that punctuated a 522-yard performance by the Gophers. Rodney Smith rushed 24 times for 153 yards, lightening the load on Annexstad in just the second time in major college football history that a true freshman walk-on quarterback started a season opener.
According to Minnesota's research, Baker Mayfield was the only other one for Texas Tech in 2013. The last true freshman quarterback to start a season for the Gophers was Tim Salem in 1980. Adam Weber, the program's all-time leading passer, was a redshirt freshman when he took over the job in 2007.
Annexstad completed 16 of 33 passes for 220 yards and no interceptions, before yielding to backup Tanner Morgan midway through the fourth quarter. Annexstad's biggest gaffe was a fumble in the first quarter when he mishandled a shotgun snap that was recovered by Aggies linebacker Terrill Hanks at the 12-yard line.
Matt Romero's best pass of the night came two plays later, a 13-yard connection in the corner of the end zone to Izaiah Lottie on a fade route against Antonio Shenault that tied the game at 7. Dylan Brown kicked a 45-yard field goal on the next drive to give New Mexico State a short-lived lead, before Annexstad and Smith took the Gophers 75 yards in seven plays on the ensuing possession.
Romero finished 29 of 58 for 233 yards passing and one interception, a diving catch by linebacker Thomas Barber off one of several dropped throws by Aggies receivers. New Mexico State, which lost 29-7 to Wyoming on Saturday in an unusually early start to the schedule, capped last season with the program's first bowl game win since 1960. The Aggies, though, are the only FBS team to start 2018 without its leading passer, rusher, receiver and tackler from the previous season.
THE TAKEAWAY
New Mexico State: The Aggies have allowed an astounding 607 rushing yards over their first two games, a sure sign that this will be a rebuilding project under sixth-year coach Doug Martin. Their net rushing total on offense through two games is just 29 yards.
Minnesota: Annexstad will face much more daunting defenses this season, but this was exactly the kind of smooth debut the Gophers needed for their rookie quarterback, let alone a team that has struggled badly with the forward pass in recent seasons. Demry Croft totaled 262 passing yards over the final four games last season, and the Gophers didn't have a touchdown pass over the last five games.
UP NEXT
New Mexico State visits Utah State on Sept. 8, a rematch of the Arizona Bowl game from last season. The Aggies are playing an independent schedule after a four-year appearance in the Sun Belt Conference ended.
Minnesota hosts Fresno State on Sept. 8, a game that ought to give the Gophers a truer nonconference test. The Bulldogs finished 10-4 last season, reaching the Mountain West Conference championship game and beating Houston in the Hawaii Bowl. Fresno State opens with Idaho on Saturday.