Minnesota Aurora FC knocks off Indy Eleven 2-1 for first playoff win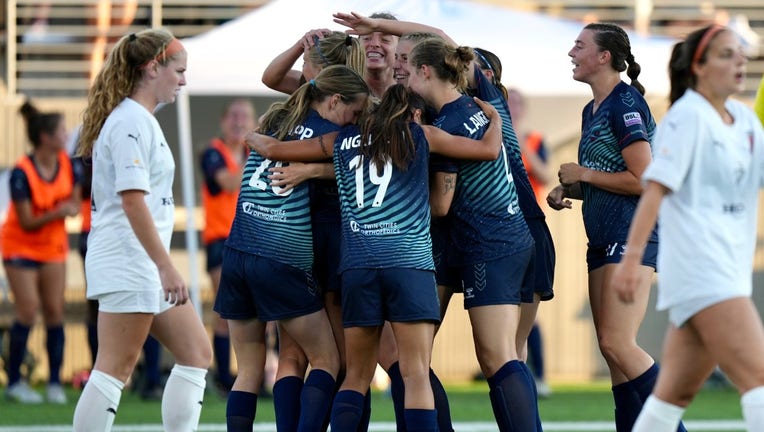 article
MINNEAPOLIS - There have been a lot of firsts for Minnesota Aurora FC in its inaugural season in the USL W.
The first game in franchise history, a 1-1 draw against Green Bay Glory. Shelby Hopeau scoring the first goal in franchise history, and the team's first win in franchise history coming in its second game. Wednesday night in front of a sellout crowd at TCO Stadium in Eagan, they got their first playoff win in the USL W quarterfinals.
Minnesota Aurora recovered from a 1-0 deficit in the first half with a pair of second half goals in a 2-1 win over Indy Eleven with 6,200 fans on hand watching a perfect night for soccer. Morgan Turner and Mayu Inokawa got the second half goals to send Minnesota Aurora to the playoff semifinals on Sunday, against McLean Soccer, back at TCO Stadium.
Minneosta Aurora and Indy Eleven both entered the night unbeaten over a combined 24 matches. But only one team could move on.
"It feels really good, we're really excited. To be down going into the second half, we haven't faced that ever. We've been down before, but not that deep into the game. For our players to respond the way that they did, I'm so proud of them," Minnesota Aurora coach Nicole Lukic said after the win.
"Fantastic, it was a team effort. We came back down a goal, I'm just so proud of this team. I'm so proud to be a part of this program and what we've built it into. It's just incredible," said keeper Sarah Fuller, arguably the best player on the field for Minnesota Aurora Wednesday night.
Fuller made four big saves in the first 45 minutes, including her biggest of the night on a penalty kick. In the 25th minute, Katherine Soderstrom of Indy 11 got the kick after a Minnesota Aurora foul in the penalty area. She tied to beat Fuller to her left, and Aurora's first signee was ready.
"I've seen her shoot a few times. I was like OK, I feel like she's going to go to my left and I just went. It was there, I made the save. Just incredible, so happy I saved it," Fuller said.
It gave her teammates a lift, despite the fact that Indy Eleven scored in the 34th minute to take a 1-0 lead into the half. 
"She was super locked in as soon as she saved that PK. We knew she was going to have a phenomenal game. Just to see her be able to play it all the way through, we couldn't have won without that game that she played today," Lukic said.
They never panicked, there was plenty of game left.
Minnesota Aurora switched from a 4-5-1 formation to a 3-5-2 for the second half, and it didn't take long to see the results. Turner got the equalizer in the 50th minute, bending a shot inside the far post and past Indy Eleven keeper Mackenzie Wood for a 1-1 tie.
The crowd of 6,200 went nuts.
"Morgan Turner's goal just blew this place up," Fuller said.
About 15 minutes later, Indy Eleven got whistled for a foul in the penalty area. In her first start with Minnesota Aurora, Inokawa got the call to take the penalty kick. She took a very deliberate approach and slid a shot just past Wood for a 2-1 Aurora lead in the 65th minute.
"What a day for her to contribute. We've been practicing PKs all season, and hers is kind of a funny one. We knew it was coming and just to see her be able to capitalize on it for us, just a really special moment," Lukic said.
That lead held for the final 25 minutes, and three minutes of stoppage time as Minnesota Aurora extends its win streak to 12 games and advances to host McLean Soccer in the USL W semifinals on Sunday.
After the win, players celebrated with fans as they took a lap around TCO Stadium. A franchise in its first year with no idea what to expect is now one win away from playing for a USL W title. They're still without a loss this season.
"We tied our first game that we ever played together and I think since then, we've had a chip on our shoulder. We just wanted to show what we were capable of. We knew this was going to be a tough team, we knew that from the start and I think we owned up to it and played amazing," Fuller said.