Minnesota Aurora: How to watch Aurora vs. Bavarian United on June 17 on FOX 9+
EAGAN, Minn. (FOX 9) - The Minnesota Aurora FC takes a 7-0 record into a pivotal home game on Saturday, with a game you can watch on FOX 9+ and streaming live on FOX9.com. 
The Aurora will host Bavarian United, with kickoff at 7 p.m. at TCO Stadium in Eagan. You can watch the game for free, over the air on FOX 9+ (over the air 9.2, Dish/DirecTV 29, Comcast 10/807, Mediacom 10/803, Spectrum 10) and streaming in the player above, on FOX9.com, the FOX 9 app, and FOX 9's YouTube channel.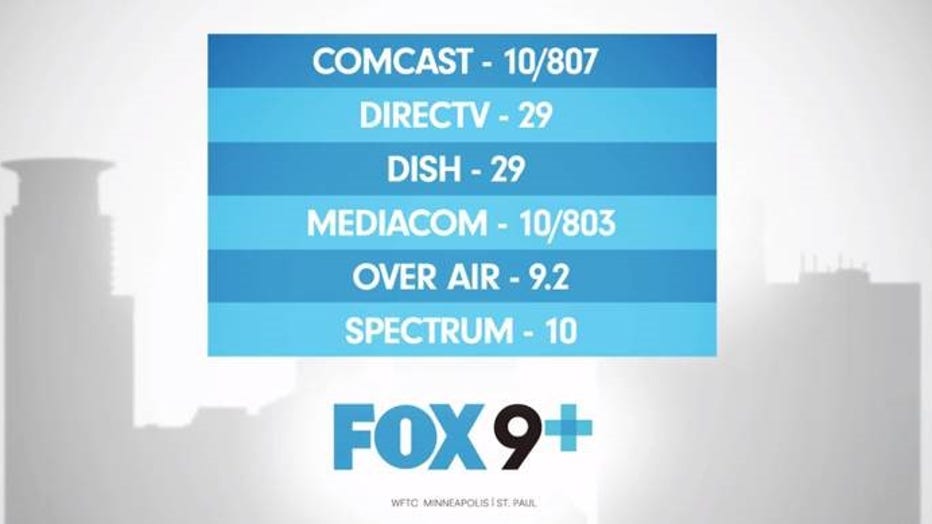 How to watch FOX 9+. (FOX 9)
The Aurora was supposed to have a sellout crowd for Wednesday's home match against Green Bay Glory, and a "teal out" for attending fans, but the game was moved indoors because of poor air quality from wildfires in Canada. Aurora got a 5-0 win over Green Bay at St. Croix Valley Recreation Center.
Saturday's game is a match-up featuring two of the top teams in the Heartland Division. Minnesota Aurora leads the division with a 7-0 record and 21 points. Bavarian United is tied for second at 13 points, and Aurora can create some separation for an automatic bid to the playoffs with a win.
Four different players scored in Wednesday's win, led by Cat Rapp's two goals and one assist. Aurora is now second in the USL-W in scoring at 34 goals in seven games. They're also second in goal differential, at plus-32. Tampa Bay United leads the league with 37 goals scored, and only one allowed.
All Minnesota Aurora home games will be on FOX 9+ in 2023, with the first match on Wednesday. Here's the Aurora's home broadcast schedule: 
Wednesday, May 24, 7 p.m. vs Rochester FC
Wednesday, May 31, 7 p.m. vs Sporting Racine
Wednesday, June 7, 7 p.m. vs Chicago Dutch Lions
Wednesday, June 14, 7 p.m. vs Green Bay Glory
Saturday, June 17, 7 p.m. vs Bavarian United
Saturday, July 1, 4 p.m. vs Chicago City SC