Mike Zimmer on Vikings QB situation: 'Don't believe everything you hear'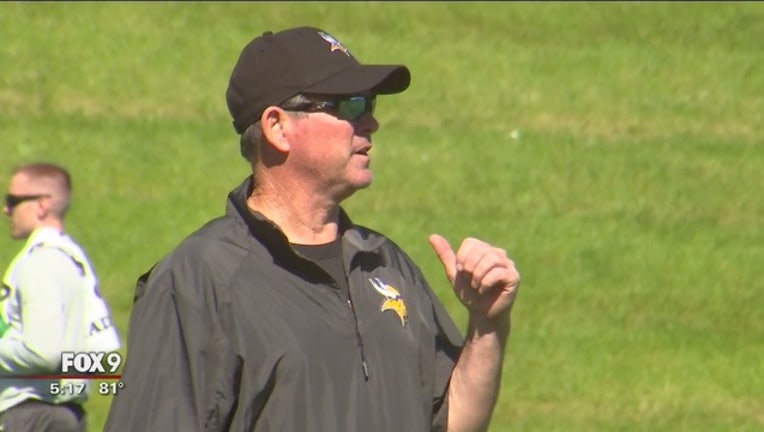 article
INDIANAPOLIS (KMSP) - The start of the Minnesota Vikings season is still months away, but decisions made now could dictate a successful 2018. Most notably, the team's quarterback selection for the upcoming campaign.
Vikings head coach Mike Zimmer addressed the team's need for a quarterback on Thursday at the NFL Combine.
"It's important for myself and Rick [Spielman] and the organization that we pick the right guy that is going to help us to continue to move forward," Zimmer said. "If we don't do that, then I'll probably get fired."
Three quarterbacks played for the Vikings last season, but Case Keenum, Teddy Bridgewater and Sam Bradford are all set to become free agents later this month.
Keenum led the Vikings to the NFC Championship Game, but threw 22 touchdowns to 20 interceptions in NFL games prior to the 2017 season.
Bradford set the NFL completion percentage in 2016 with the Vikings, but played in only two games last year with a knee injury.
Bridgewater is a 2014 first round NFL Draft pick, but hasn't started a game in two seasons due to a devastating injury.
Three options with open ended answers for the Vikings at this point.
"Really what we have to do is figure out what is the best scenario for us and trying to answer these questions on these three guys," Zimmer said.
The Vikings could also pursue a high-caliber free agent quarterback this season, notably Kirk Cousins who is expected to hit the market.
Cousins will most likely come with a high price tag, leaving the Vikings with another important question to answer: "Is a top-tier QB worth a commanding salary?"
"We've won 40 games in the last four years because we've had a good football team," Zimmer said. "I want to make sure with our team that we continue to build and improve, and continually improve on defense."
Speculation is rampant when it comes to what the Vikings will do this offseason in relation to the quarterback position, but Zimmer added that nothing is certain heading into the March 14 opening of NFL free agency.
"Don't believe everything you hear," Zimmer said. "Unless it's from me."