Maddyn Greenway, Tori Oehrlein eclipse 2,000 career points as high school freshmen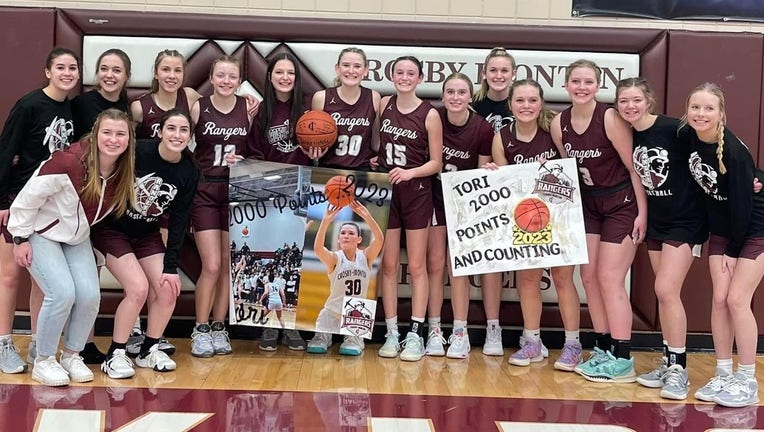 article
MINNEAPOLIS (FOX 9) - A pair of Minnesota high school freshmen made history in girls' basketball last weekend.
One name will be very familiar to Minnesota sports fans, while the other maybe not as much. Maddyn Greenway and Tori Oehrlein each passed 2,000 career points in their careers, and they each still have three-plus high school seasons to play.
Greenway poured in 60 points Friday night to lead Providence Academy to a 126-94 win over Minnehaha Academy. At one point, Greenway was threatening to break the state record for points in a game, but that will have to wait for another day. Duluth Marshall's Gianna Kneepkens had 67 in a game in 2021, and McKenna Hofschild put up 63 in a game in 2018.
Greenway has been playing varsity basketball since her seventh grade year, and led Providence Academy to a Class AA state title last year while averaging nearly 24 points per game, as an eighth grader. Earlier this season, Greenway scored 41 points in an 87-80 win over girls' basketball power Hopkins.
If the name sounds familiar, she's the daughter of former Vikings' linebacker Chad Greenway. Maddyn already has scholarship offers for basketball from schools across the country, including Minnesota, Iowa, Creighton, Michigan, Iowa State, Wisconsin and UCLA.
Further north, Oehrlein surpassed 2,000 career points at Crosby-Ironton last Saturday. She, like Greenway, is just a freshman. It was just her 72nd career varsity game, and if not for Greenway, she would've been the fastest in state history to get there.
Oehrlein had 28 points and 13 rebounds on Saturday as Crosby-Ironton beat New London-Spicer, the No. 2-ranked team in Class AA, 59-58.
"It was a normal game," Oehrlein told the Brainerd Daily Dispatch after the game. "I was more worried about beating them than getting my 2,000th point. It's sunk in a little bit, but not really."
For those wondering, the state scoring record is held by former Braham star Rebekah Dahlman, who had 5,060 career points from 2008-13.