Lopez, Correa lead Twins to 6-2 Game 2 ALDS win over Astros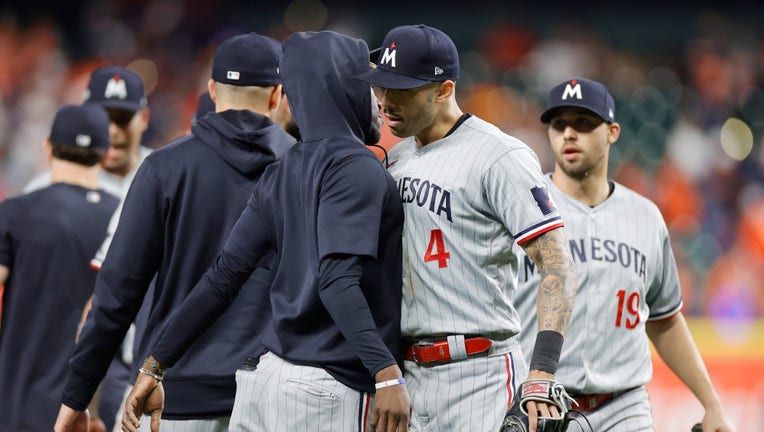 article
MINNEAPOLIS (FOX 9) - Pablo Lopez tossed an absolute gem, and Carlos Correa provided the clutch hitting as the Minnesota Twins beat the Houston Astros 6-2 in Game 2 of the ALDS Sunday night at Minute Maid Park.
The win evens the best-of-five series at 1-1, and guarantees that there will be two games this week at Target Field. Trading for Lopez was arguably the Twins' biggest offseason move in getting high-end starting pitching, and he's delivered. Lopez tossed seven shutout innings, scattering six hits while striking out seven and walking one.
"I think he was completely locked in. He was just so sharp. Anyone watching can see the stuff is exceptional, but I think he had tremendous feel for his pitches. It encourages you to want to let him keep going," Twins manager Rocco Baldelli said after the win. "To me it wasn't that difficult of a decision tonight to let Pablo pitch, and he pitched."
He threw 105 pitches, 69 for strikes. The outing comes after he pitched 5 2/3 innings against the Toronto Blue Jays in Game 1 of the AL Wild Card Playoffs. Lopez now has 12 2/3 innings in the playoffs without allowing an earned run.
Correa had three hits and three RBI, starting with a double to center in the first inning that scored Jorge Polanco for a 1-0 lead. He added a two-run single to center in the fifth, scoring Donovan Solano and Michael A. Taylor to give the Twins a 5-0 lead. Kyle Farmer had a two-run homer in the second.
Edoard Julien added an RBI single to right in the seventh that scored Royce Lewis.
The Twins' only blemish on the night was a Yordan Alvarez two-run homer to right in the eighth, off Brock Stewart.
The two teams fly to Minneapolis and will have a workout on Monday before Game 3 Tuesday afternoon at Target Field. Sonny Gray will get that start for the Twins.