Just another game: Wolves face Butler Tuesday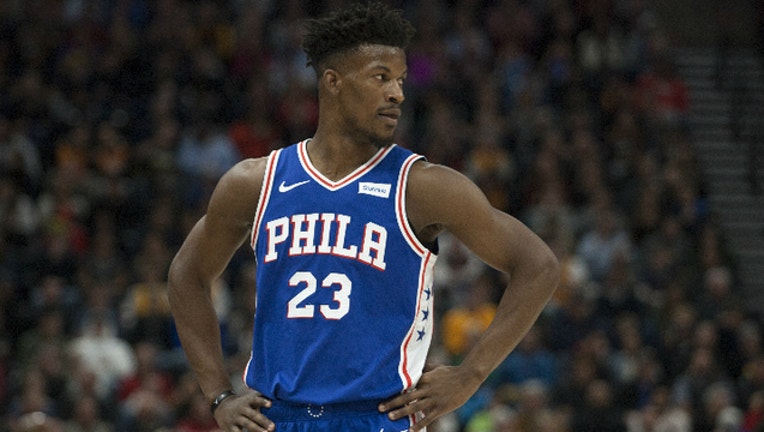 MINNEAPOLIS (FOX 9) - It's just another game. It's just another game. It's just another game.
Except for when it's not just another game. The Minnesota Timberwolves on Monday largely tried to downplay their Tuesday visit to the East to play the Philadelphia 76ers. It'll be the first time the Timberwolves have faced their former teammate, Jimmy Butler, since he became a former teammate on Nov. 12, 2018.
If there is any extra motivation for the Timberwolves to beat Butler and the 76ers, they are keeping it internal.
"Haven't thought much about it and as a team we haven't thought much about it," Timberwolves interim coach Ryan Saunders said. "We're focused on the guys we have here and we're focused on Philadelphia as a group."
It was an ugly situation all around at Target Center and Mayo Clinic Square earlier this season that ultimately led to Tom Thibodeau's firing on Jan. 5.
It was a move that had to be made if the Timberwolves wanted to salvage anything from this season. Butler told Thibodeau he wanted to be traded last summer, and Thibodeau either didn't believe him or didn't listen - maybe both.
Butler returned to practice last fall, but didn't participate in Timbewolves' training camp. He reportedly beat the starters in a scrimmage at Mayo Clinic Square while playing with the reserves, and loudly called out team management during it. He refused to play in certain games, forcing the hand of the Timberwolves to make a move.
The worse the situation became, the uglier it got to keep Butler in Minnesota. They traded him Nov. 12 for Dario Saric, Robert Covington, Jarryd Bayless and a second round pick in 2022.
It's almost hard to remember that Thibodeau and Butler were the dynamic duo in leading the Timberwolves to their first playoff appearance in 14 seasons.
"I was hoping that it could work out, but things in the NBA always change. You have to just keep moving forward," Timberwolves forward Taj Gibson said. "Jimmy is in a good situation, KAT and Wiggs are in a great situation so it worked out for the better."
It should be an interesting game when the Timberwolves and 76ers meet Tuesday night. Minnesota is 17-13 since the Butler trade, and 2-1 since Ryan Saunders replaced Thibodeau as interim head coach. The 76ers are 20-10 since acquiring Butler, and fourth in the Eastern Conference at 28-16.
The Timberwolves are 21-22 and are 1.5 games out of the No. 8 spot in the Western Conference.
Since the trade, Karl-Anthony Towns has increased his scoring average nearly five points, from 19.9 to 24.3. Andrew Wiggins has improved from 17 to 18.1 points per game. He's also up to averaging 20 shots per game and scored 40 points in a key win at Oklahoma City nearly a week ago. He looked like a different player in that game, attacking the rim at every available opportunity.
Wiggins is treating Tuesday like any other game, despite the drama Butler created in Minneapolis.
"He brings his best every game. Every game he plays hard. So it's not like he's going to play harder this game, he plays hard every game," Wiggins said.
Wiggins also suggested Butler's "You can't bleeping win without me tirade" during a preseason scrimmage was blown out of proportion.
"I feel like it wasn't as crazy as everyone made it out to seem. I feel like from the media point of view, it blew up more than what it was," Wiggins said. "When he was here, it was a good practice. It was a competitive, intense practice. That was all."
Regardless, a cloud appears to have dissipated that was once over the Timberwolves with Thibodeau in charge. He was loud, often angry and demanded his starters play heavy minutes.
With Saunders running the sidelines, the bench is full of positivity and high-fives. He provides a different type of intensity that players latch onto.
Players are enjoying playing basketball again, and Timberwolves' fans have responded. After spending much of the season booing Thibodeau and Butler, Target Center was a sell-out for Saunders' home debut. He was introduced to cheers from fans.
Towns is playing some of the best basketball of his career. He had 27 points, 27 rebounds and four blocks in Saturday's win over New Orleans. He's scored at least 27 points in eight of his last nine games. Through the Butler situation and the Thibodeau firing, Towns has been the most consistent player the Timberwolves have had.
"I think that's just Karl, the credit goes to him. He's playing great basketball, he's been locked in in terms of what we want to do with things," Saunders said. "He hasn't let something unexpected affect him on the basketball court."
It remains to be seen if the change in leadership will result in a playoff spot. But it appears Saunders will be given every opportunity to win the job his father once held, and bring with it life to Target Center.