Irv Smith Jr.: 'I want to be a complete tight end'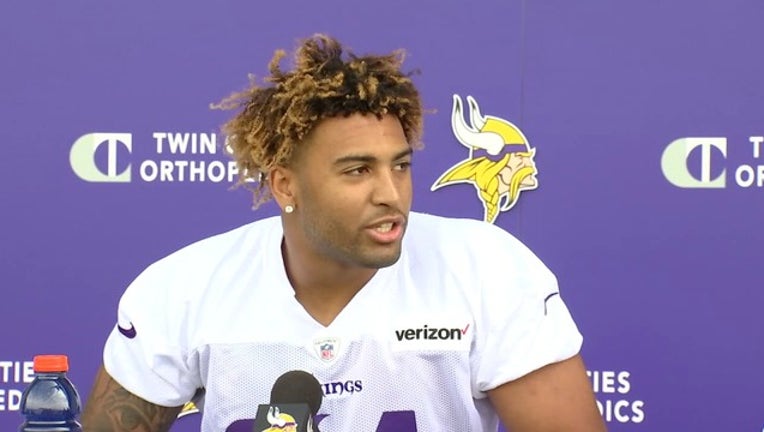 article
EAGAN (FOX 9) - There's not a much better way to prepare for a life in the NFL than for playing for Nick Saban at Alabama.
The Crimson Tide had three first-round draft picks this year, and have now had 15 first rounders since 2014. He wasn't a first-round pick, but the Minnesota Vikings are hoping to gain from Irv Smith. Jr.'s championship-caliber experience at Alabama.
"Coach Saban, his philosophy is not only preparing us not only for football but for life," Smith said at Vikings' rookie minicamp. "Just coming here now and being here, he's definitely prepared us."
He was available when the Vikings were on the clock with the No. 50 pick in the second round, and his potential was too good to turn down. Despite taking calls for trades, Spielman stuck with his gut and chose Smith.
Their biggest goal with Smith is to create mismatches. He's an athletic, versatile tight end who caught 44 passes for more than 700 yards last season, averaging more than 16 yards per catch. He also scored seven touchdowns. He had 14 catches and three touchdowns on the 2017 Alabama squad that won the national championship.
This is his first time in Minnesota, and he's not shy about his talent. He hopes to make life difficult for opposing linebackers and safeties, if that's the match-up he's presented.
"I believe no linebacker or safety 1-on-1 can stay with me, and I'm going to keep proving to people that's how I feel," Smith said after being drafted.
"I think when you watch the Alabama tape and see how you can utilize his skillset in many different ways to create mismatches," Spielman said. That type of tight end we haven't had here and I know that's a big part of Gary Kubiak's offense and Kevin Stefanski's offense right now."
Smith has the bloodlines to be a success in the NFL. He's the son of a first-round draft choice in 1993 who played for the Washington Redskins.
Smith said his father became a mentor for him early in his football career. His father challenged him to become a fast, athletic tight end who can also be a receiver. He's honoring his father by wearing a No. 84 Vikings jersey, the same number his dad wore in college.
It's an interesting choice, with that number holding some history with the Vikings and being worn by legendary wide receiver Randy Moss.
"It's funny because I wore 82 in college, and my dad wore 82 in the league. Then he wore 84 in college," Smith said. "So I felt like it would be cool to switch it up a little bit."
Smith made it very clear at rookie camp: He wants to be a complete tight end in the NFL. There's always room to improve, but he has no interest in being considered only a receiving tight end.
"As a tight end, you need to be able to block and catch the ball," Smith said.
And if you ask the Vikings, his drafting has no impact on the status of Kyle Rudolph, who is playing in the final year of his current contract. While he seeks a restructured deal, the Vikings are working on ways that the two can co-exist in various offensive packages.
Alabama's pro-style offense should benefit the Vikings. Zimmer expects Smith's NFL transition to be smoother because of it.
"We're fortunate enough that Irv was able to line up in a normal tight end spot. He lined up in the backfield, lined up wide as well. I think his transition will probably be a little bit quicker," Zimmer said.
This is his first time experiencing Minnesota, and Smith intends to make the most of it.
"Man it's been awesome finally getting up here. It's my first time coming to Minnesota so it's a blessing. I'm excited to be here," Smith said.