MSHSL hockey, gymnastics tournaments still on during snowstorm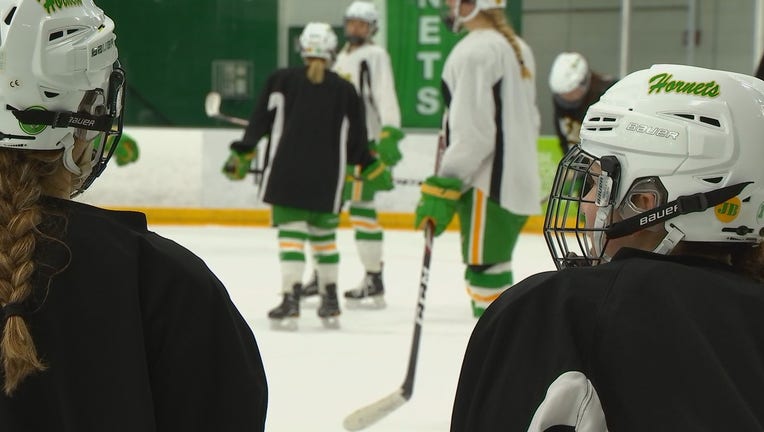 article
MINNEAPOLIS (FOX 9) - It's a busy week for the Minnesota State High School League with state tournament season in full swing, and they don't appear to be slowing down despite a significant winter storm that's on the way.
We'll get an appetizer with snow Tuesday afternoon, but the main event is Wednesday into Thursday. It'll be enough snow to make travel treacherous, and potentially close schools. It won't stop state champions from being crowned this week in girls hockey and gymnastics.
MSHSL officials released a statement on Tuesday.
"The Minnesota State High School Girls Hockey and Gymnastics State Tournaments for this week are expected to take place as scheduled. Teams are being encouraged to watch the weather and make travel plans accordingly. We look forward to hosting two great tournaments."
The Class A and AA Girls State Hockey Tournament starts Wednesday at Xcel Energy Center. Here is a look at the Class A Quarterfinals:
Mankato East vs. Proctor/Hermantown, 11 a.m.
Luverne vs. Orono, 1 p.m.
Albert Lea vs. Warroad, 6 p.m.
Fergus Falls vs. South St. Paul, 8 p.m.
Here is a look at the Class AA Quarterfinals, set for Thursday at Xcel Energy Center:
Rosemount vs. Andover, 11 a.m.
Lakeville North vs. Edina, 1 p.m.
Centennial/Spring Lake Park vs. Minnetonka, 6 p.m.
Moorhead vs. Gentry Stars, 8 p.m.
Semifinals in both classes will be Friday at Xcel Energy Center, and champions will be crowned Saturday.
The State Gymnastics Championships will go on as scheduled Friday and Saturday at Roy Wilkins Auditorium, next door to the hockey tournament. The Class AA team tournament is at 11 a.m. Friday, and the Class A session is at 6 p.m. Class AA individuals compete at 11 a.m. Saturday, with Class A wrapping up the weekend at 6 p.m.
The Class AA qualifiers include Owatonna, New Prague, East Ridge, Stillwater, St. Michael-Albertville, Hopkins, Anoka and St. Cloud. The Class A teams are Winona, Mankato West, Worthington, Mahtomedi, Watertown-Mayer/Mound Westonka, New London-Spicer, Big Lake and Detroit Lakes.
MSHSL officials have no plans to alter either the hockey or gymnastics tournaments due to weather. League officials are urging teams and spectators to travel with caution and plan ahead for all events. Tickets for the state tournaments are non-refundable.