How to watch: Gophers and St. Cloud State hockey on FOX 9, FOX 9+ this weekend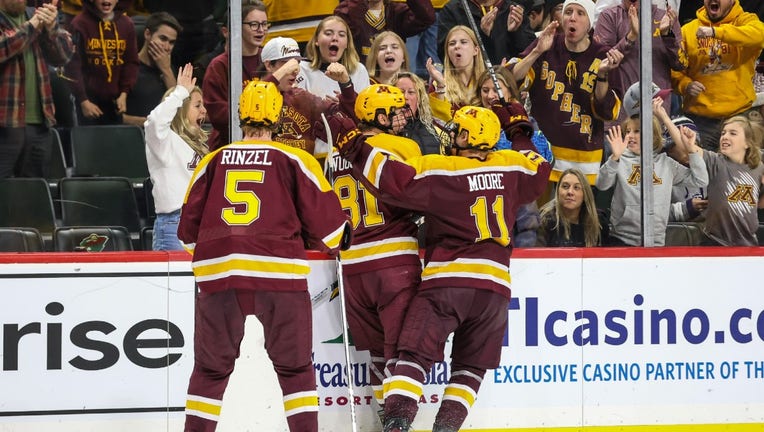 article
MINNEAPOLIS (FOX 9) - College hockey season is officially underway, and you can watch the University of Minnesota and St. Cloud State men's hockey teams this weekend on the FOX family of networks.
The Gophers (2-0) are ranked No. 1 in the country and travel up Interstate 94 to renew their old WCHA rivalry with the University of North Dakota, ranked No. 5 in the country. Minnesota is coming off a thrilling weekend series against the University of St. Thomas. The Gophers beat the Tommies 6-5 in overtime last Friday, on Jimmy Snuggerud's overtime goal.
Saturday night, the Gophers beat the Tommies 3-0 at 3M Arena at Mariucci to complete the weekend sweep.
Minnesota faces North Dakota at 7 p.m. Friday at Ralph Engelstad Arena, a game you can watch on FOX 9. Game 2 of the series is at 6 p.m. Saturday, and will air on FOX 9+. The Gophers and FOX 9 have partnered to air 10 Minnesota home games, and four road games this season.
ST. CLOUD STATE ON FOX 9+ THIS WEEKEND
St. Cloud State (1-3) started the season with a split against St. Thomas, then got swept 3-2 and 5-1 last weekend at Minnesota State University-Mankato. The Huskies are back home this weekend to face Alaska Fairbanks at the Herb Brooks National Hockey Center. The two teams face off at 7:30 p.m. Friday on FOX 9+.
Saturday's game will air at 8:30 p.m. on FOX 9+.
ST. THOMAS WOMEN'S HOCKEY SATURDAY ON FOX 9+
Also on Saturday, the University of St. Thomas women's hockey team hosts Ohio State at 2 p.m. at St. Thomas Ice Arena, which will be aired on FOX 9+.