Gustavus hockey player recovering after spine injury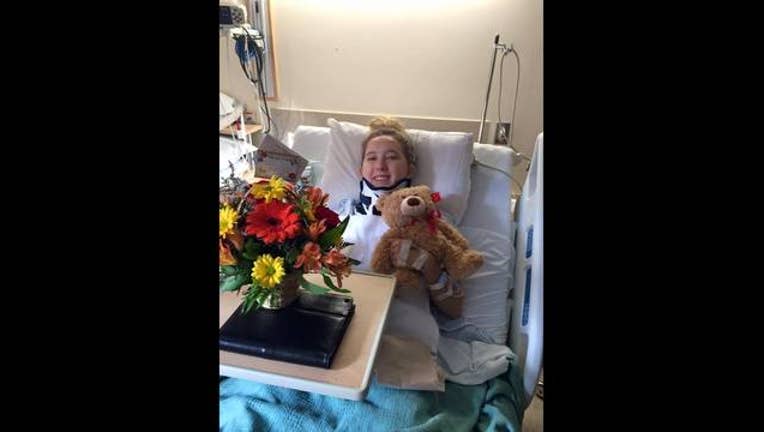 article
(KMSP) - Injured playing the game she loves, a Gustavus hockey player from Wayzata, Minn. is recovering after taking a devastating hit during a game against Plattsburgh at Middlebury College in Vermont over the weekend.
Kaitlyn Klein had to have spinal surgery to repair her C7 vertebra at the University of Vermont, her father Joe Klein relayed on Facebook. He has provided several updates as she has progressed through surgery and therapy.
"The surgeon said things could not have gone better and he was amazed that she didn't have more serious consequences to her spinal cord because her C7 was crushed. She has a loss of strength on her left side, but he feels confident that will heal," he wrote.
She took her first steps on Nov. 30 and Gusties around the nation have sent her flowers, gifts and well wishes, Klein said. The Plattsburgh hockey team also sent her a bouquet of flowers.
Another huge outpour of Gustie support came at the airport, just as Kaitlyn was ready to fly out of Vermont to recover at her own home.
"So to say i have gone through a range of emotions these last 5 days is an understatement, but this one put a big lump in my throat due to the overwhelming beauty. Today we were scheduled to fly out of Burlington, Vermont and get Kaitlyn back to the comfort of her home. Waiting for us at the airport on this cold, rainy day was the Gustafson siblings who were alumni from Gustavus, now living in Vermont, and had seen Kaitlyn get hurt on Sunday night. Dale('61), Ann ('65) and Marcia ('69) greeted Kaitlyn and gave her some beautiful souvenirs from Vermont. Thank you so much from the bottom of our hearts!" her father wrote.