Gophers without Dawson Garcia, Pharrel Payne Wednesday against Indiana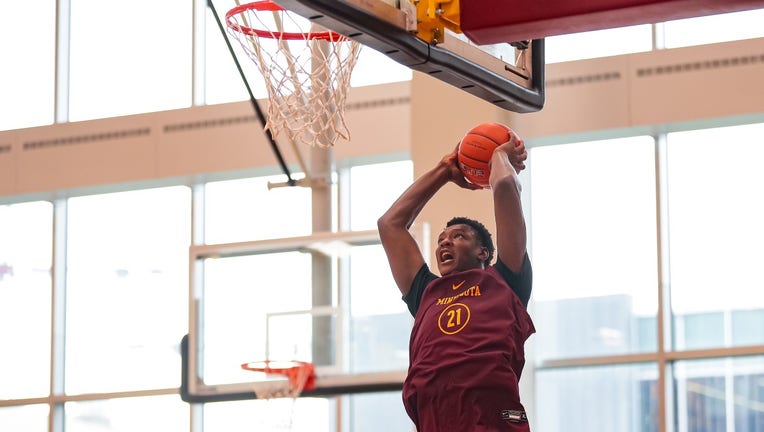 article
MINNEAPOLIS - The University of Minnesota men's basketball team hosts Indiana Wednesday night and is hoping to end a three-game losing streak, but the Gophers will be down to seven scholarship players against the Hoosiers.
Team officials announced earlier in the afternoon that Dawson Garcia, Minnesota's leading scorer, will miss the game due to a bone bruise suffered in Sunday's loss at Michigan. Garcia left the game briefly in the second half, landing awkwardly after making a 3-pointer. He went to the locker room briefly before returning to the bench, and played the final minutes against the Wolverines clearly ailing.
"I know if it's up to him, he's going to play. But we've got to talk about what makes sense and be able to be smart about it like we always do with our guys," coach Ben Johnson said Tuesday.
Freshman center Pharrel Payne will also miss Wednesday's game due to being in the concussion protocol. Ben Johnson said the Gophers would be doing a pair of walk-throughs before facing the Hoosiers, so it's not clear when Payne got hurt.
Minnesota is also without Braeden Carrington, who is sidelined at least another three weeks with a stress reaction.
The Gophers' available scholarship players are Jamison Battle, Ta'Lon Cooper, Taurus Samuels, Joshua Ola-Joseph, Treyton Thompson, Jaden Henley and Will Ramberg. Walk-on Jackson Purcell is also available, and Kadyn Betts is redshirting this season.
Indiana coach Mike Woodson is also not available to the Hoosiers due to COVID-19.
The Gophers are 7-11 overall and 1-7 in Big Ten play. Their lone conference win came at Ohio State.