Gophers will be without Dupree McBrayer Tuesday against North Florida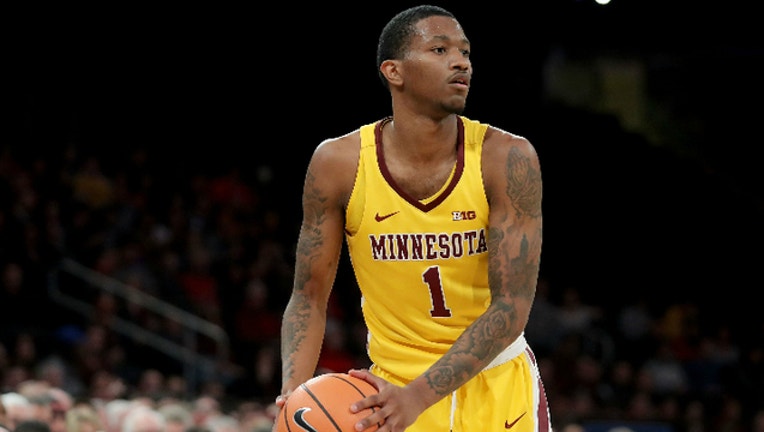 MINNEAPOLIS (FOX 9) - The Gophers' basketball team will be without starting guard Dupree McBrayer Tuesday night when they host North Florida at Williams Arena.
McBrayer traveled home to be with his family after the death of his mother last week from cancer. Services are planned for Tuesday and Wednesday. He played 34 minutes and scored five points in Minnesota's win over Nebraska two days after her death. He made a crucial three-pointer that got the Gophers within 81-78 late in the second half after they trailed by as many as 13 points.
McBrayer had 14 points and shot 6-of-7 from the field in Saturday's 72-56 win over Arkansas State.
In the team's game notes, graduate transfer Brock Stull is listed as the starter for Tuesday's game in McBrayer's place. Stull has played in eight games and is averaging 9.5 minutes per contest. He's shooting 7-of-12 from the field on the season, including 6-of-10 from three-point range.
More telling is that sophomore guard Isaiah Washington is not starting. Washington has had an up-and-down season since recording 11 assists in the first game, a win over Nebraska-Omaha. He had 15 points and shot 5-of-10 from the field in a win over Oklahoma State at U.S. Bank Stadium. But he's also had his struggle. He played just six minutes, didn't score and was benched in the second half in Saturday's 72-56 win.
"He's a sophomore. He's going to have young moments. It's important for me to find a way to get his confidence going," Pitino said Monday. "He knows he's not playing great, so it's just a matter of how can I help him to put him in a position to succeed because he's important to our team. When he's good, he can really, really help us."
The Gophers got some good news on the injury front Monday. Pitino said freshman center Daniel Oturu is expected to play Tuesday after suffering a sprained ankle on Saturday. He practiced Sunday after scoring 19 points and grabbing 12 rebounds to lead the Gophers.
Pitino also said it's possible sophomore Eric Curry could see his first game action of the season Tuesday night. The decision will be made before tip on Tuesday. Curry was sidelined all of last season after tearing his ACL, MCL and meniscus before the season. He played in a scrimmage at Creighton, but then had surgery to fix swelling in the same knee. He's been on a timeline of four to six weeks for a return.
"He's been working extremely hard to get back to 100 percent," junior Michael Hurt said. "Hopefully, we can get him back sometime in the non-conference here just so he can get his feet a little in the water, playing before we get back into conference play."
If Curry is held out Tuesday, the Gophers have 10 days off before hosting North Carolina A&T on Dec. 21.
Pitino said the team will fly out after Tuesday's game to be with McBrayer for his mother's funeral.