Gophers seek quality wins for NCAA resume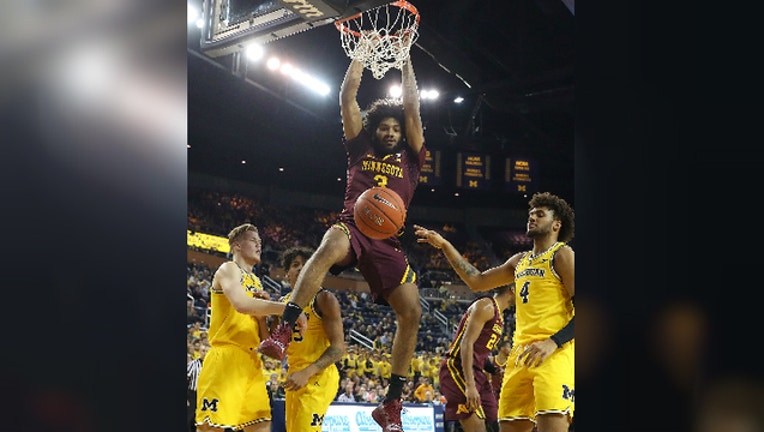 MINNEAPOLIS (FOX 9) - The Gopher basketball team may have lost two straight Big Ten games, but they're not hitting the panic button any time soon.
For the first time all season, Minnesota is on a losing streak of at least two games after falling to Wisconsin Wednesday night, 56-51, on a cold shooting night. The Gophers finished the night shooting 1-of-13 from three-point range, and missed 12 straight at one point.
Ethan Happ asserted himself in the second half offensively, and D'Mitrik Trice hit enough big shots to lift the Badgers to a road victory. But since getting blown out at Illinois, the Gophers are 3-3 and have been in every game.
"It was just a battle of who could hit the bigger shot at the right time. Trice hit a big one, we missed a couple big ones, but it was a war. That was a physical battle," Gophers coach Richard Pitino said. "Our effort was really, really good and our execution was pretty solid too. We just didn't make shots when we needed to."
If they're at all salty, it's because of missed opportunities to add quality victories to their NCAA Tournament resume. The Gophers had a 13-point second half lead at Purdue, only to have the Boilermakers go on a big run and get a 73-63 victory. Minnesota limited Wisconsin to 34.5 percent shooting Wednesday night, yet the Badgers escaped with the victory.
The hope is that they're not spoiling a historic season and career for forward Jordan Murphy. The senior forward had 16 points and 19 rebounds Wednesday, and is second in the Big Ten in career rebounding.
Murphy was recently named a finalist for the Karl Malone Award, which goes to the top power forward in college basketball. He leads the conference and is fourth in the nation in rebounding. Murphy also has 16 double-doubles in 23 games this season. Not an easy task for a player listed at 6 feet 7 inches, but plays much bigger with his strength and physicality.
"It's remarkable, I don't think anybody appreciates exactly what Murphy does on a daily basis, even myself. He is extremely humble, he's not flashy, he's not boastful, he doesn't beat his chest," Pitino said. "He just cares about competing and winning so when you have that coupled with a soft-spoken demeanor, you may under appreciate him a little bit."
Murphy was a sophomore on the Gophers team that won 24 games and was a No. 5 seed in the NCAA Tournament. It would be a shame for a player of his caliber to not finish his college career with Minnesota's name being called on Selection Sunday.
The reality is the Gophers have plenty of work to do to get there. They have quality wins at Wisconsin, over Iowa, neutral site wins over Washington, Texas A&M and Oklahoma State. They also beat Nebraska when it was a top-25 team.
The Gophers have eight regular season games left, starting at Michigan State on Saturday. Of the eight, at least four would be considered Quadrant 1 wins and are against the top four teams in the Big Ten. Minnesota's remaining home games are Indiana, Michigan and Purdue. The road games include Michigan State, Nebraska, Rutgers, Northwestern and Maryland.
Any combination of five wins in those eight games should get the Gophers solidly in the Big Dance without having to worry about the Big Ten Tournament or sweat Selection Sunday.
"When you're trying to make the NCAA Tournament, you need quality wins. The good part about the Big Ten is we have seven more Quad 1 win opportunities moving forward," Pitino said. "That's fun for our guys, that's fun for our fans. Those are great opportunities."
They've gone on win streaks before, so there's no reason it can't happen again. The Gophers won eight straight Big Ten games during their run to the No. 4 seed at the conference tournament two years ago.
It won't be easy, but it can be done. Take a look at Indiana, which lost seven straight Big Ten games until last Saturday. The Hoosiers beat Michigan State.
"The biggest thing in this league is you can't turn a two-game losing streak into a four-game losing streak because you can't get over yourself," Pitino said.
The Gophers have shown many times this season they can play with any team in the Big Ten. They led Maryland by double digits in the second half before the Terrapins got a win at Williams Arena. They had a 13-point lead at Purdue before losing. Minnesota scored 92 points to beat Iowa. The Gophers scored 85 points to beat Nebraska, and 88 to beat Rutgers.
They've shown they can score. It's a matter of consistency. The Gophers are just 3-of-29 from three-point range in their last two losses. So what can Pitino do to fix the shooting issues?
"What am I trying to do? Pray, go to church? I don't know, we go inside a lot. It's got to be a point of emphasis on taking good shots," Pitino said.
There's no better way to gain confidence than with a win Saturday at the Breslin Center, one of the toughest road venues in college basketball. The Gophers are looking for their first road win over a top-10 team since January of 2012. The Spartans are ranked ninth in the country and have lost three straight games.
It's an opportunity for a quality win the Gophers are badly in need of.