Gophers RB Zach Evans named Big Ten Freshman of the Week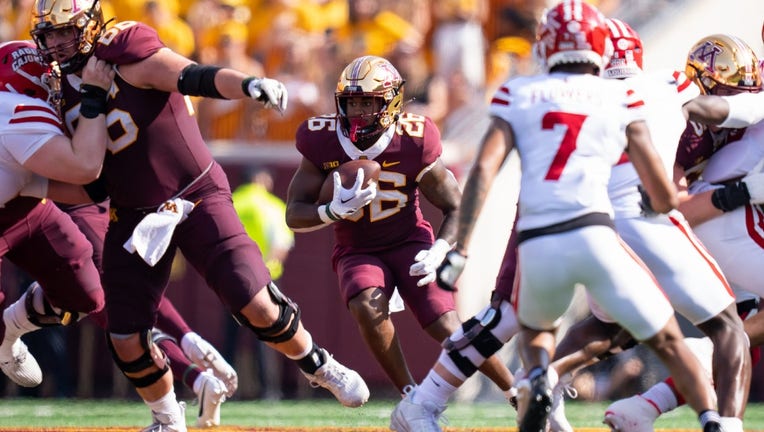 article
MINNEAPOLIS (FOX 9) - For the fourth straight week, the University of Minnesota football team has the Big Ten's Freshman of the Week.
It's also a running back, but it's not Darius Taylor, who missed Saturday's 35-24 win over Louisiana with an injury. This team, it's Zach Evans. The redshirt freshman, in the first significant game action of his career, had 15 carries for 85 yards and an 18-yard touchdown run. He averaged 5.7 yards per carry in the victory. It's the first time the Gophers have had two separate running backs earn Freshman of the Week honors in program history.
Evans played in one game last season, against Northwestern, and got six carries for 29 yards. Using Bryce Williams, Evans, Sean Tyler and Athan Kaliakmanis on Saturday, the Gophers ran for 201 yards and averaged nearly four yards per carry. Gophers' coach P.J. Fleck pointed out Monday that just a few weeks ago, Evans was practicing during the team's Sunday Night Football to work on fundamentals.
"Zach Evans, who played Sunday night football a few weeks ago to correct some of the issues he was having, had a phenomenal night. He's working on a lot of things to become more consistent, and bang, he became more consistent. Got his opportunity, and now he's Freshman of the Week. That's where we're at," Fleck said.
FLECK ON LE'MEKE BROCKINGTON: 'UNFORTUNATE HE GOT HURT'
Fleck on Monday didn't provide much of an update on wide receiver Le'Meke Brockington, who had to be carted off the field during the second quarter after suffering a left leg injury. Brockington was blocking on a run play and got rolled up on by Evans.
He was down on the field for several minutes before leaving the field on a cart, with his left leg in a cast. Brockington gave a thumbs up to the crowd before heading into the tunnel.
"You can keep asking the questions and I respect it wholeheartedly. Whether guys will be back or won't be back, you'll find out two hours before game time. Meke is a really good player for us and has built himself into a really good wide receiver," Fleck said. "Training staff has him right now and they'll make the best decisions for him moving forward. He's a heck of a football player. It's unfortunate he got hurt on that play. It's football, it happens. He's doing everything he can, I can promise you that."
Brockington has five catches for 73 yards and one touchdown this season. He got on the map with a touchdown at Wisconsin last season.