Gophers' P.J. Fleck talks being grateful amid trying 2023 season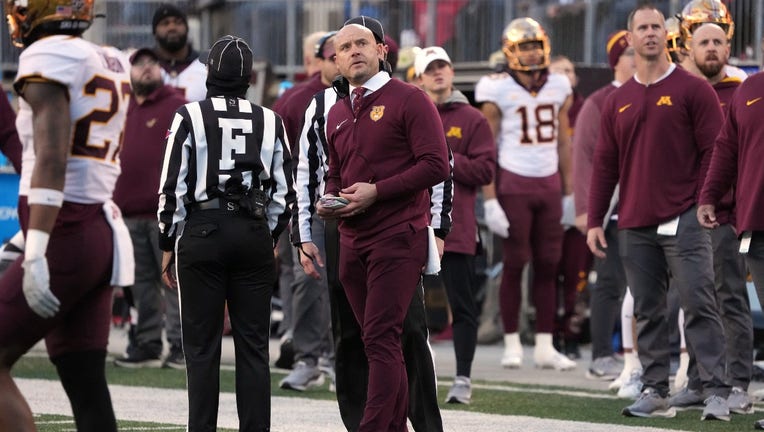 article
MINNEAPOLIS (FOX 9) - University of Minnesota football coach P.J. Fleck opened his weekly news conference Monday talking about Thanksgiving week, being grateful for the good and bad and his consistent message of learning through adversity.
He mentioned how he had former Gophers' golfer Erik van Rooyen come into talk to the team. A recent PGA Tour winner, his best friend John Trasamar recently died of cancer. The Gophers will host their annual Turkey Drive Tuesday night, where players and staff will hand out hundreds of Thanksgiving turkeys and dinners to families in need.
Fleck talked about being a child out to dinner, and his dad making him chase down a waitress after he didn't thank her for his drink. Fleck regularly calls people close to him, and tells them he's thankful for various things in life. That includes former San Francisco 49ers coach Mike Nolan, who cut Fleck when he was trying to live his NFL dream as a receiver.
And then there's the 2023 Gophers, who are 5-6 after a 37-3 loss at Ohio State and need a win over Wisconsin on Saturday to earn bowl eligibility. Their Big Ten West title hopes are going after losses to Northwester, Illinois and Purdue.
"Some of us only want to be grateful for the good things. You've got to be grateful for the hard things that you're going through, there's so many teaching lessons coming from it," Fleck said. "Just like our season, it's a tough season, it's hard but there's so many opportunities to learn. It's Axe Week, and I know Wisconsin feels the same way. If you win, you get to extend it and if you don't, then that's up for grabs. I think that message is very clear, we've put ourselves in this position and that falls on me."
SENIOR DAY FOR GOPHERS
The Gophers conclude the 2023 regular season against Wisconsin at Huntington Bank Stadium, and it's Senior Day. Several players will wear the Gophers' colors for the final time, and for most, it'll be the last time they play in a football game.
It's likely the final game for Chris Autman-Bell, Brevyn Spann-Ford, Tyler Nubin and others who have been with Fleck since Day 1. They've lived through a 5-7 start, the historic 11-2 season in 2019 and winning nine games in three of the last four seasons. It's always an emotional day, and they'd love nothing more than to beat the Badgers for a third straight year and lock up a bowl game.
But for Fleck, it's about more than wins and losses. It's about life lessons.
"The guys that are leaving this year that are seniors, they've accomplished so much. Think about what Chris Autman-Bell has seen in this program from the first day we got here to now. You look at the things that they've seen and they've gone through, those are the life lessons that are going to make them incredible husbands and fathers and men," Fleck said. "At the end of the day that's part of my job, that's why I got in this. Those guys have learned the most because they've seen the most. They've got a lifetime of education built within seven years, now they get to go apply that to the rest of their lives. I wouldn't trade that for the world, and I hope they feel the same way. They've meant so much to this program."
NO UPDATES ON DARIUS TAYLOR, CODY LINDENBERG
Fleck didn't have any updates Monday on running back Darius Taylor or linebacker Cody Lindenberg. Both missed Saturday's loss at Ohio State. Taylor, who leads the Gophers with 591 rushing yards, has not played since the 12-10 win at Iowa. Lindenberg did not play against Purdue or Ohio State after getting a team-high 11 tackles and forcing a fumble against Illinois.