Gophers need to beat Michigan to keep season alive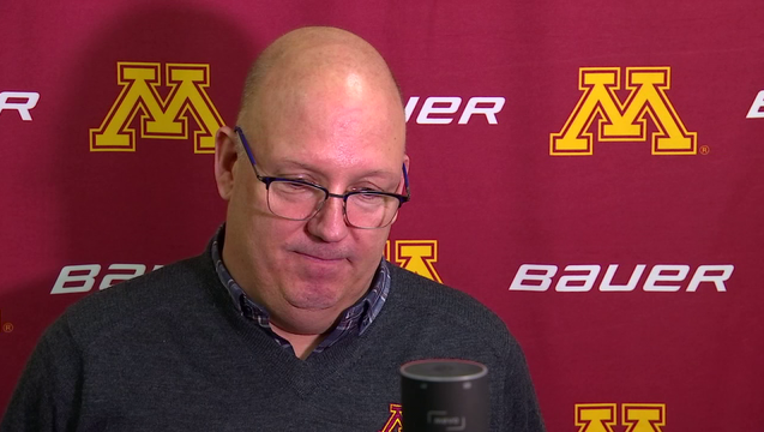 MINNEAPOLIS (FOX 9) - The University of Minnesota men's hockey team prefers to control its own destiny when it comes to the postseason.
After all, the Gophers saw what happened last year when they leave it up to somebody else. They had a 98 percent chance to make the NCAA Tournament, then got swept at Penn State in the Big Ten Tournament. Every scenario that could keep them out of the NCAAs became reality, and their season was over.
"That was for sure a heartbreak last year and we know what's on the line right now. We've got to play our tails off and we've got to win every game possible from here on out really," senior forward Jack Ramsey said.
But a lot has changed for the Gophers (16-15-4, 11-10-3 Big Ten) this season. For one, Don Lucia retired as head coach. Insert Bob Motzko, and the goal remains the same even though the guy behind the bench is different than last season.
The Gophers host Michigan this weekend in a best-of-three series at Mariucci Arena. If they don't find a way to get two wins, their season is over. If they do, they're one step closer to the NCAA Tournament. But the Gophers know their only option to get there is by winning the Big Ten Tournament and getting the league's automatic bid.
They are currently No. 20 in the U.S. College Hockey Online's Pairwise rankings, not close to high enough to be considered for an at-large bid.
"The first round is always antacid city. Two out of three in every league when you go through it, you've got to play good hockey. It's now and it's here, even though we've been playing better hockey, we've got to bring it Friday night," Motzko said. "That's what the playoffs are all about."
Motzko knows it as well as any hockey coach. He led St. Cloud State to NCAA Tournament appearances four of the last five seasons.
The good news for the Gophers is it appears they're playing their best hockey at the right time of the year. They've won three straight games, five out of six and finished the regular season with a sweep of Arizona State. They out-scored the Sun Devils by a combined 10-3 over the two games.
"I think we're clicking at the right time. We're playing hockey the way we want to be playing. I think we're ready to go right now," said senior Tyler Sheehy, who leads the Gophers with 27 assists and is second in points with 38.
Minnesota's opponent is also fighting for its NCAA life this weekend. Michigan is No. 24 in the Pairwise rankings and is 13-14-7 on the season. The Gophers tied Michigan 2-2, with the Wolverines scoring to win in overtime, beat Michigan 4-3 back in early December in Ann Arbor.
When the two teams met at Mariucci in early February, the Gophers lost the series opener 4-2 before earning a split with a 4-3 win.
Minnesota knows what it has to do this weekend: Find a way to get two wins.
"I think everyone knows what's at stake and everyone has the same goal. Us older guys will be playing our hearts out," senior Brent Gates said. "We don't want it to be our last weekend in Gopher hockey."
One area that hasn't been an issue for the Gophers is getting the puck in the net. Minnesota has scored 22 goals in its last six games, an average of 3.6 per game. The Gophers are 5-1 over that stretch. They've scored 12 goals in four games against the Wolverines this season.
It looks to be a great matchup with both teams fighting to advance in the playoffs.
"The only thing right now is Michigan and the best two out of three series. Control your own destiny, it's a good place to be," Motzko said.
If they don't take care of business, it'll mark the end of college hockey for nine Gophers' seniors.
"With how many seniors that we have, we're just not going to let that happen again. I don't see it happening," Sheehy said. "I feel really good about how we're playing right now."
The Gophers face Michigan at 6 p.m. Friday in Game 1. Game 2 is set for 4 p.m. Saturday, and if necessary, Game 3 will be 4:30 p.m. Sunday.