Gophers: Braun, Heyer, Holloway returning to Minnesota next season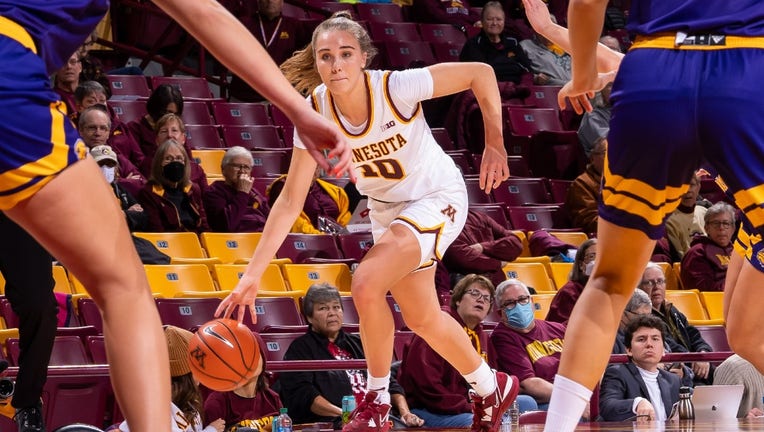 article
MINNEAPOLIS (FOX 9) - The University of Minnesota women's basketball team will have a new coach next season, but they will have their leading scorer back.
Gophers' freshman Mara Braun confirmed Tuesday to KFAN's Justin Gaard, the team's radio play-by-play voice, that she's returning next season. Lindsay Whalen stepped down as head coach last Thursday after five seasons, going 71-76 overall and 32-58 in Big Ten play.
Braun issued this statement to Gaard on Tuesday:
"We came here to represent the state and turn the program around and I intend to help finish what we've started. Coach Whalen and I have talked and she wants this for us as well. To shut down any speculation, I am a Gopher and look forward to continuing Coach Whalen's vision for us and the program."
Braun led the Gophers in scoring at 15.6 points per game and started all but one game. The key word in here statement is "we."
Braun is one piece of Whalen's top recruiting class in program history entering this past season. She's one of four Minnesota players, including Mallory Heyer, Amaya Battle and Nia Holloway, to stay home and play for Whalen. Holloway was the only one to not play, after suffering a knee injury before the season.
Heyer confirmed to the Star Tribune on Tuesday that she'll also be back. She started all 30 games this season, averaging 10.4 points and 7.1 rebounds per game.
"I am staying at the U and am committed to helping this program to the top," Heyer told Kent Youngblood.
Holloway announced on social media Tuesday afternoon she'll be back next season, and hopefully healthy.
"I'm committed to be a Gopher & that's what I'm sticking to. Getting healthy and rehabbing this knee are my biggest priorities. I cannot wait to step on that court in a Gopher jersey!" Hollway said.
Whalen is no longer the coach in what Minnesota Athletic Director Mark Coyle said was a "mutual decision," but will stay in the athletic department as a special assistant to Coyle.
Battle is the last domino to officially fall, but there's no reason to believe she won't return after an 11-19 season. All four are roommates on campus, and plan to live together next year.