Gophers hold off Purdue rally to win Big Ten opener, 38-31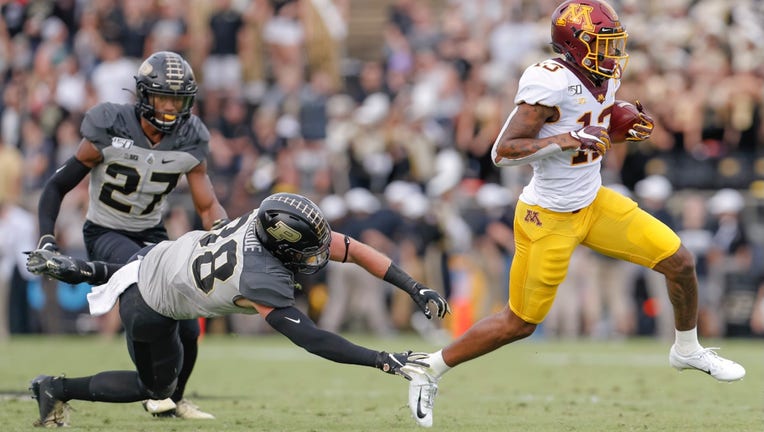 article
MINNEAPOLIS - The University of Minnesota football team got out to a big lead and had to hold on to get a 38-31 road win at Purdue on Saturday to open the Big Ten season.
With the Gophers up 38-17 late in the third quarter, Purdue rallied with 14 straight points to get within 38-31 with four minutes remaining.
Tanner Morgan was the offensive star for the Gophers, finishing 21-of-22 passing for 396 yards and four touchdowns. Both numbers are career-highs for Morgan, who is now 8-2 in his career as Minnesota's starting quarterback. He also completed 95.5 percent of his passes, which is the highest percentage in the history of the Big Ten.
Sophomore Rashod Bateman had six catches for 177 yards and two touchdowns. Senior Tyler Johnson had eight catches for 73 yards and a score, and Chris Autman-Bell had three catches for 97 yards and a touchdown.
Kamal Martin, who didn't play two weeks ago against Georgia Southern with a foot injury, led the defensive effort with two interceptions. Taiyon Devers sacked Elijah Sindelar in the first quarter, and the hit knocked him out for the game. On the same play, Boilermakers' star receiver Rondale Moore went down with a leg injury. Neither returned.
Rodney Smith finished with 22 carries for 115 yards and a touchdown, averaging 5.2 yards per carry for the game.
The Gophers got out to an early 7-0 lead with a touchdown on the opening drive. Morgan hit Bateman on two passes for a combined 35 yards, then found tight end Jake Paulson for a 24-yard gain. On third-and-goal from the 3-yard line with Seth Green lined up as the wildcat quarterback, Smith took a direct snap for the touchdown.
Purdue got on the board with a field goal, and Minnesota had the big play to answer. Morgan hit Autman-Bell on a slant in stride, and he was off to the races for a 70-yard touchdown and a 14-3 Gophers lead.
The Gophers effectively took the air out of the Purdue stadium on their next defensive series. Devers sacked Sindelar, who went down in pain, was helped off the field and never returned. He got the start after missing last week's loss to TCU due to being in the concussion protocol. His injury Saturday wasn't officially announced, but he was seen on the sideline with his non-throwing arm in a sling.
On the same play, Moore got tangled up with a Gophers' defender and went down with what appeared to be a knee injury. He spent several minutes in the medical tent before heading to the locker room for further evaluation, and didn't return.
The Boilermakers actually capped that drive with a 7-yard touchdown pass from Jack Plummer to Zander Horvath, cutting Minnesota's lead to 14-10.
After hitting the slant a couple times, Morgan hit Bateman on it for a 45-yard touchdown to give the Gophers a 21-10 lead with 5:10 left in the first half. Minnesota got the ball back again before the end of the half, and Morgan capped the drive with a short touchdown throw to Johnson on a fade route.
The Gophers appeared to be in control, up 28-10 with Purdue's top two offensive weapons out injured.
But the Gophers struggled finishing tackles in the game, and it ultimately made the game much closer down the stretch than it should've been. The Boilermakers opened the second half with a touchdown drive to cut Minnesota's lead to 28-17. King Doerue scored on an 8-yard run, and it was the start of a big game for him. The Gophers had trouble tackling Doerue, who finished with 20 carries for 94 yards and two touchdowns.
Michael Lantz hit a field goal to give the Gophers a 31-17 lead, and on their next offensive play, appeared to put the game away. Morgan's slant throw had been working the entire game, and Bateman faked the route, went deep and got behind the Purdue defense. Morgan hit him for a 47-yard touchdown and a 38-17 lead.
Purdue wouldn't go away, and the Gophers didn't put them away when they had their chance. Doerue's second rushing touchdown got the Boilermakers within 38-24 with 6:01 left in regulation. The ensuing onside kick went off Green's face mask, and Purdue recovered. They took it for a touchdown, capped by Doerue's 13-yard catch from Plummer.
Despite missing Sindelar and Moore, Purdue still managed 414 yards, including 291 through the air. The Boilermakers were also 7-of-16 on third down conversions.
The Gophers had a 38-31 lead with 3:59 left, and were in danger of giving up a 21-point lead. The Boilermakers appeared to have the Gophers stopped on a third-and-long, but Purdue was called for pass interference on Johnson. Smith got the Gophers a first down to seal the win.
Morgan averaged 18 yards per completion as the Gophers averaged 8.7 yards per play for the game. In his first game back from a knee injury last season, Shannon Brooks had five carries for five yards.
The Gophers (4-0, 1-0) won their Big Ten opener for the first time under Fleck, and it's their first win in a Big Ten opener since 2014. Minnesota returns home to face Illinois for Homecoming next Saturday.