Gophers coach P.J. Fleck goes on 5-minute rant about game day uniforms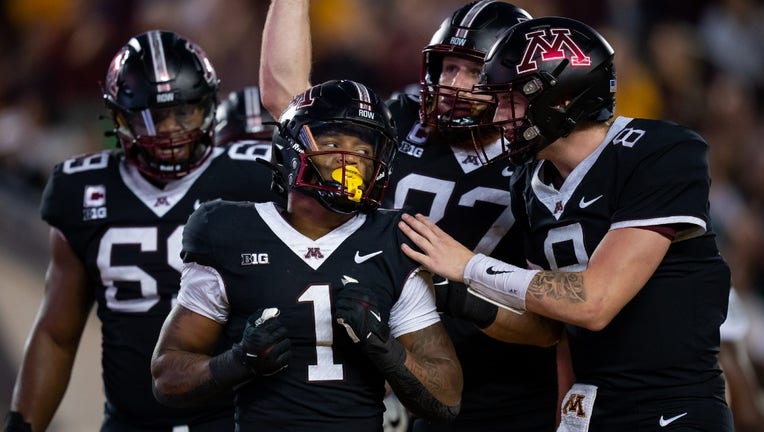 article
MINNEAPOLIS (FOX 9) - It's not the University of Minnesota football season until someone from the fan base complains about the team's uniforms on game day.
The Gophers and P.J. Fleck come to a decision together during the week of preparation on what the team's look will be from head to toe. Fleck was asked Monday at his weekly news conference what all goes into the decision. His answer turned into a rant that took nearly five minutes.
For Saturday's loss at North Carolina, the Gophers had their normal white road tops, maroon letters and maroon pants. The modern touch? A chrome helmet with "Goldy the Gopher" on one side, and the normal "M" on the other. The Gophers have had a different look for virtually every game under Fleck, and including going mostly black against Nebraska to open the 2023 season.
"Our traditional colors are maroon and gold, period. Always will be, always will be, always will be. No one is taking that away. Did Ohio State have a black uniform? The answer is yes. Florida Gators, did they have black uniforms the other day? Sure did. No offense to any of us, and I get tradition, I'm here to uphold that tradition," Fleck said. "We haven't changed the mascot, we haven't changed the name, we haven't changed the colors. We're adding a little flavor to it, that's all. Because it's all about the players. Everything we do is about the players that are on that field. The young people love it, that's why every week we do something a little different for everyone."
Fleck and his equipment manager meet with players on the team's leadership council to make those decisions. He wants his players feeling good about themselves on game day to perform at their best.
"Our players have a massive voice within these walls, and I want them to feel really good about what they do, how they present themselves and it's something they wanted. I don't think there was one email from our players that said I didn't like those. Everything we do is about the student athlete," Fleck said.
That's even if some fans, especially those in the older demographic, don't like them. Fleck gets the emails and phone calls every week. He welcomes any recommendation from fans, and perhaps it will turn into something.
"I'd love to have a new uniform every single week that would fulfill every single one of our fans' fantasies about what we should wear. You want us to go back to the 1960s? Throw some uniforms at us, find somebody to donate them, boom," Fleck said. "We'll put them on our guys, as long as they're passed by Nike and Nike creates them. I'd love to be able to do it every single week. I thought they looked tremendous the other night under the lights."