Gophers coach Ben Johnson says Mark Coyle 'has my back' after last place finish in Big 10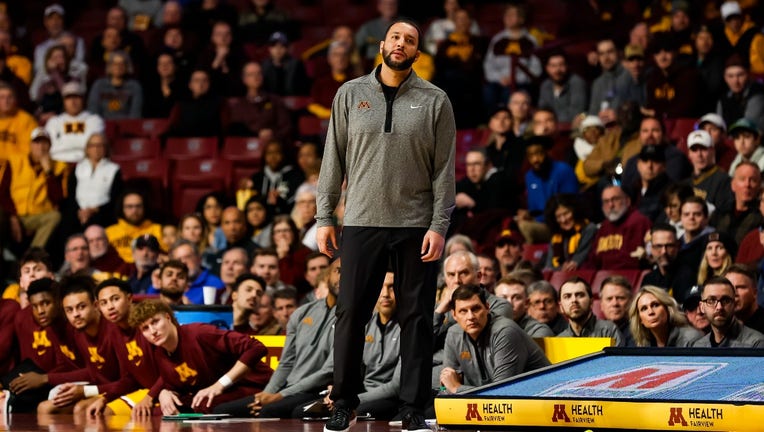 article
MINNEAPOLIS (FOX 9) - For the second straight year, the University of Minnesota men's basketball team finished last in the Big Ten.
That means for the second straight year, Ben Johnson and the Gophers are playing on Wednesday in the Big Ten Tournament. Last year, they were the first game of the conference tournament and lost to Penn State to finish Johnson's first season 13-17. Year two has been rough for Johnson with the Gophers at 8-21 and just 4-14 in the league heading into Wednesday night's game against Nebraska.
Johnson is 6-33 in the Big Ten through two seasons, but his job with the Gophers isn't in jeopardy. At least not yet. He said Monday via Zoom that Gophers' Athletic Director Mark Coyle "has been really supportive."
"Mark has been awesome. He's a guy that totally understands. He's like me though, he's really competitive and he wants to win and he knows that we can win here and that we're going to win here," Johnson said. "He's been really supportive, he's been a guy that's just been awesome to work with and to know that he has my back and he sees the growth and the development. He sees the path and the trajectory of where we're going and who we have in our program. That's why I know it's a good combination, we both see eye-to-eye on that, being realistic and understanding where we are in our program, nor being satisfied with where we're at in our program and he's putting us in position to be successful down the road."
Last Thursday, Lindsay Whalen stepped down as Gophers' women's coach after an 11-19 season, a 32-58 mark in Big Ten play over five seasons and zero NCAA Tournament appearances. Coyle showed patience with Whalen, and he'll do the same with Johnson.
If the Gophers manage to beat the Cornhuskers, they'll face Maryland Thursday night. Johnson's message to his players heading into postseason play? Don't let the next game be your last. This week is the last time this roster will be together. There won't be a Big Dance, and there won't be an NIT.
"The message has been we don't want the next game to be our last one. Just continue to be in the journey. This could be the last time this group of guys is together, and you don't want it to end quite yet," Johnson said. "Try to battle have one more day and one more game."
Next year will be critical for the Gophers, and Johnson said this is the most excited he's been for an offseason. He believes he'll have a core group returning that's led by leading scorer and rebounder Dawson Garcia. He also should have a talented group of freshmen in Pharrel Payne, Braeden Carrington and Joshua Ola-Joseph back. Jaden Henley will be the wild card. He's played in 29 games and gotten 16 starts, but his close friend Dennis Evans got out of his letter of intent to come to Minnesota next season.
Johnson should also get Parker Fox and Isaiah Ihnen back from injury, Cam Christie will be a new freshman and Kadyn Betts could contribute after redshirting this year.
He'll have pieces back, but it will be interesting to see how the roster changes after the season, who leaves and who Johnson brings in via the NCAA transfer portal. He believes for the first time, he won't be starting from scratch.
"This is the offseason I've looked forward to more than any because we have retention. We've got guys that have been in the program, in the system, that we've developed that have gotten better that are going to take another step," Johnson said. "It's the first time I don't feel like it's a total start over, and that's exciting to me."