Gophers basketball teams lose by combined 58 points to Rutgers, Indiana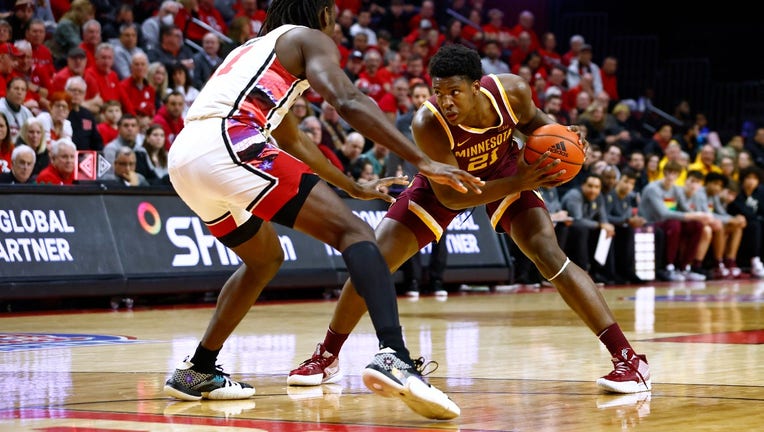 article
MINNEAPOLIS - The University of Minnesota men's and women's basketball teams were both in action Wednesday, and by all accounts, it was an ugly night for both teams.
Ben Johnson and the Gophers' men's team lost 90-55 at Rutgers. Lindsay Whalen and the women's squad lost to Indiana 77-54 at William Arena. That's two losses by a combined 58 points. The two teams are also a combined 3-19 in Big Ten play. Tough times in Dinkytown.
On the men's side, Dawson Garcia missed his third straight game with a bone bruise in his right foot, suffered at Michigan. He was a game-time decision to play, but joined Braeden Carrington, Parker Fox and Isaiah Ihnen on the bench in sweats. The Gophers had eight players available, and were again without their top scorer.
Jamison Battle had 13 points, but shot 5-of-12 from the field, including 1-of-6 from three-point range. Joshua Ola-Joseph led the Gophers with a career-high 17 points in 38 minutes. The Gophers shot just 36 percent from the field, 2-of-12 from the perimeter and committed 15 turnovers.
It was Rutgers' largest margin of victory since joining the Big Ten. It was the Gophers' worst loss Indiana in 2001. The Gophers are 7-14 overall, just 1-10 in league play and have lost six straight.
"We'll do some self-reflecting for sure. We have to hold each other more accountable. That's us as a staff. It's those guys as players. We all have to hold each other to a higher standard," Johnson said on his post game radio show.
On the women's side, the Gophers trailed the No. 4-ranked Hoosiers 26-6 out of the gate and never recovered. They've lost three straight since a win at Penn State, have done so by a combined 78 points.
In her first game back at Williams Arena since leaving the Gophers' program after last season, Stillwater native Sara Scalia had 10 points in 26 minutes off the bench.
It hasn't been the season Whalen had in mind, despite having one of the top freshman classes in the country. The Gophers are 9-13 overall, and just 2-9 in Big Ten play. Whalen is in her fifth season as Gophers coach, and has a record of 69-70, including 30-53 in Big Ten play. Minnesota has not been to an NCAA Tournament in Whalen's tenure, and it's fair to start asking how much longer she'll last on the Gophers' bench.