Gophers fall to 0-2 after 45-44 overtime loss at Maryland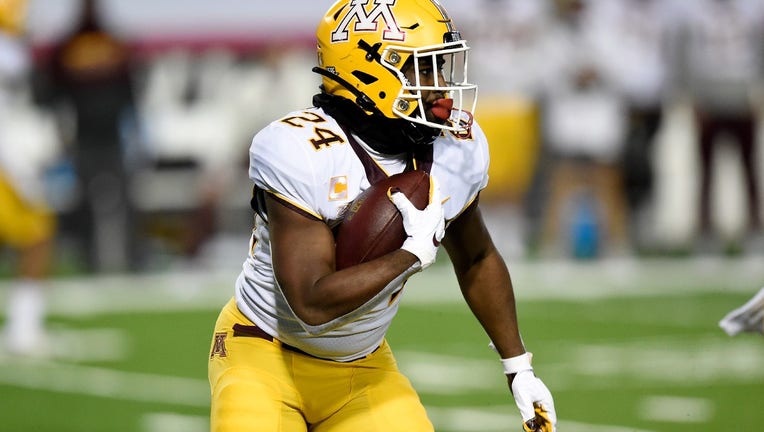 MINNEAPOLIS - The University of Minnesota football team is off to an 0-2 start after a 45-44 loss in overtime at Maryland Friday night.
The Gophers scored 31 straight points in one stretch, but Maryland rallied with 17 of its own to force overtime. The Terrapins scored first in the extra session. Minnesota answered with Seth Green's 2-yard touchdown run, but the Terrapins ran off the field with the win after Brock Walker missed the extra point wide right.
Minnesota looks like a vastly different team than the one that finished 2019 beating Auburn in the Outback Bowl to finish 11-2, its best season in 115 years. Minnesota entered the game 20.5-point road favorites after a 49-24 loss to Michigan, and heads home 0-2 searching for answers.
"We are going to swallow this pill. We're not going to ignore it, we're not going to run away from it. We're going to embrace it, and we're going to get better from it and we're going to learn," Gophers coach P.J. Fleck said.
Walker, still recovering from a sports hernia surgery, had to take over kicking field goal and extra point duties with Michael Lantz out. He was perfect on the night, with five extra points and a 25-yard field goal to that point. Fleck could've gone for two, but the reality is the game shouldn't have come to that juncture.
"I told Brock that I love him and that he's done a great job. That is not the reason why we lost this football game. There's plenty of blame to go around and plenty of plays to go around," Fleck said.
That blame should probably start with the Gophers defense. The same Maryland offense that managed just three points against Northwestern went off for 675 total yards and scored 21 first quarter points to put Minnesota in an early hole.
Taulia Tagovailoa hit Jake Funk for an 8-yard touchdown on the first series of the game. Tagovailoa later scored on a 39-yard run, then hit Jeshaun Jones for a 76-yard score as Minnesota's defense got picked apart for the second straight game.
Funk finished with 221 rushing yards. Tagovailoa passed for 394 yards and three touchdowns, added 59 yards and two scores on the ground as the Terrapins ran for 281 yards and averaged 10.2 yards per play.
"It's unacceptable. With that many yards and that many explosive plays, there's got to be a lot of accountability that goes around. But everything starts with me," Fleck said.
Despite the gaudy numbers, the Gophers actually led 28-21 at the half. Mohamed Ibrahim ran for 130 of his 207 rushing yards in the first half, and scored all four Minnesota touchdowns.
He became the first Big Ten player to have four rushing touchdowns in a half since Melvin Gordon in 2014. He's the first Gopher to have at least three since Gary Russell in 2005. It was a homecoming for the Maryland native, but he'd rather leave College Park with a win.
"It was just another game. We were 0-0 in the Maryland season, trying to get back on track. I didn't think too much about it, I was trying to work with this team to move onto the right direction," Ibrahim said.
Tanner Morgan hit Chris Autman-Bell for a 39-yard touchdown to open the second half, giving the Gophers a 35-21 lead. Minnesota then recovered a Maryland fumble at the goal line and turned it into three points on Walker's field goal for a 38-21 lead with 2:03 left in the third quarter.
That's when things went from bad to ugly for the Gophers' defense. Tagovailoa hit Dontay Demus for a 15-yard touchdown, Joe Petrino drilled a 51-yard field goal and Funk tied the game on a 19-yard touchdown run with 3:38 left in regulation.
When the Gophers needed one last scoring drive to put the game away, they ran the ball and went 3-and-out on consecutive possessions. The Gophers had the ball for seven more minutes, ran for 262 yards, went 6-for-6 in the red zone, didn't commit a turnover and still lost the game.
"What we have to do is really start fast, accelerate middle and finish strong. We can't be good in just one category or two categories, we have to be elite in all three and that's something that we need to continue to work on," said Morgan, who finished the night 10-of-15 for 189 yards and one touchdown.
The Gophers looked like they had a third down stop in overtime, but Terell Smith was flagged for pass interference. Tagovailoa won the race to the pylon on the next play for what turned out to be the game-winning score.
Fleck's teams have always been about responding. Minnesota's defense lost seven starters from last year, four to the NFL. There's plenty of work to do after an 0-2 start.
"We have a team that is very big on response. Everyone is ready to respond and everyone understands that there's things, we're ready to work together," rush end Boye Mafe said.
The search for win No. 1 continues at Illinois next Saturday.