Gophers aim to end 9-game skid against Bret Bielema, stay in Big Ten West race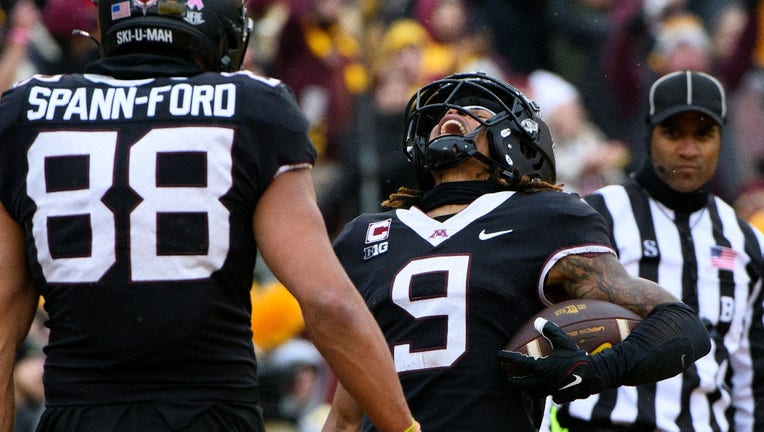 article
MINNEAPOLIS (FOX 9) - The University of Minnesota football team ended a couple of skids when it went to Kinnick Stadium and beat Iowa.
The Gophers won Floyd of Rosedale for the first time since 2014. They won in Iowa City for the first time since 1999. They have both the pig and Paul Bunyan's Axe on campus for the first time in 30 years. P.J. Fleck is hoping to end another skid this week with Illinois coming to town: Brett Bielema.
The former Badgers' head coach is in his third season with the Illini. Fleck and the Gophers are 0-2 against Bielema. Minnesota lost 26-14 in Champaign last year, and a 14-6 home loss in 2021. Bielema also went 7-0 with the Badgers against the Gophers from 2006-12.
The Gophers are 0-9 against Bielema, but can end that skid with a win Saturday afternoon at Huntington Bank Stadium. The Illini come to Minneapolis off their 3-5 overall, and 1-4 in the Big Ten. Their lone win is over Maryland, while their losses are to Penn State, Purdue, Nebraska and Wisconsin.
"I've got a ton of respect for him, he's a good friend of mine. He's won everywhere he's been. When you look at Illinois and their team, they take over his personality," Fleck said of Bielema on Monday.
FLECK FOCUSED ON ILLINOIS, NOT BIG TEN WEST RACE
After beating Iowa and following it up with a home win over Michigan State, the Gophers found themselves in a four-way tie atop the Big Ten West with four games to play.
They also now hold a tiebreaker over the Hawkeyes. Minnesota's remaining schedule is Illinois, at Purdue, at Ohio State and hosting Wisconsin. The hope is that the home finale against the Badgers might be for a Big Ten West title and trip to Indianapolis. The assumption is the Gophers will lose at Ohio State, meaning they would need to beat the Illini, Boilermakers and Badgers to give themselves a chance.
Fleck is focused on Saturday.
"It really doesn't matter, it really doesn't. One-game championship season, the only thing on our mind is Illinois, period," Fleck said. "This team has done a really good job of being able to do that, they need to continue to do that."
If they don't end up winning the West, the Gophers can point to their loss at Northwestern as the early knockout blow. Especially when you consider they blew a three-touchdown lead in the fourth quarter. The Gophers now need to beat the rest of their division opponents, and get one more loss from Iowa, Nebraska and Northwestern.
For now, the Gophers are at least in the conversation.
"When you get to November, the people that don't win in November don't have a chance. We're all at a point where every game matters. That's what we told our team, we made it to November where it matters," Fleck said. "Now what we do with it is up to us."