Gopher baseball looks to build on historic season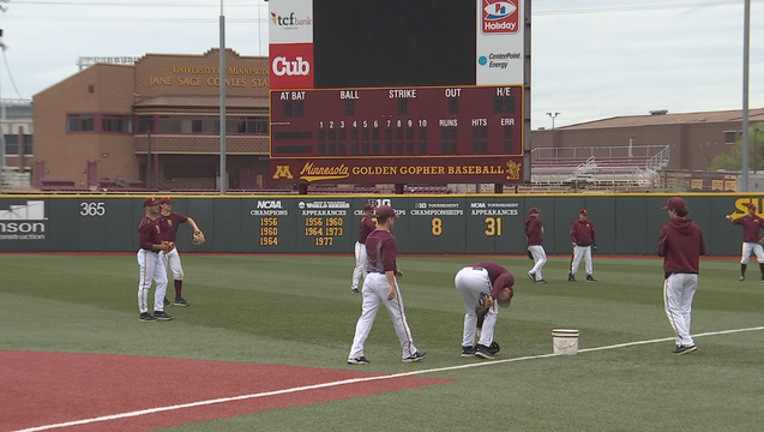 MINNEAPOLIS (FOX 9) - Coming off one of the best seasons in program history, the Gopher baseball team has lofty expectations for the 2019 season.
The 2018 season featured plenty of history for Minnesota. The Gophers went 18-4 to win the Big Ten regular season title, didn't lose a game in the Big Ten Tournament and hosted their first NCAA regional in 41 years. They also played in their first Super Regional in program history.
But that was last year, and they say it's time to write a new chapter.
"Amazing season last year but basically what we've got to do is let 2018 be 2018," junior infielder Jordan Kozicky said. "It's going to be its own special season so we're all excited going into the season. We know what we're capable of, we've got a pretty talented young group of guys that are more than capable of stepping up for this season."
Kozicky was one of the Gophers' top offensive players last season, hitting .271 with five homers, 38 RBI and 26 runs scored in 58 games for the Gophers. He was named the Most Outstanding Player of the Big Ten Tournament.
The Gophers were two wins away from their first College World Series after hosting their first regional since 1977. They knocked off Canisius and beat UCLA twice, but got swept by Oregon State in the Super Regionals. The Beavers went onto win the national championship.
They're a confident group heading into the season. After all, their 44 wins last year was the third-most in program history, and most since 1999. They enter the season ranked No. 24 in the Baseball America poll.
"I've seen an internally motivated group. They came back here and got right back to work. Last year is last year and was an outstanding, historic season for our program, but we've set that aside now and that's over with. We've got to author a new opportunity," said Gophers coach John Anderson, now entering his 38th season.
It won't be an easy start. They'll be living life on the road for at least the first six weeks of the season. You can thank Minnesota's winter and early spring for that.
They start the season at the Sunrise Classic Friday through Monday in Surprise, Ariz. They'll facing Gonzaga twice, New Mexico and No. 8-ranked Oregon State, the team that ended their 2018 season. Then, they head to Dallas Baptist for a three-game series, followed by a three-game series at N.C. State.
After that, it's three games at the Seattle Showcase, a three-game series at Long Beach State and a trip to Malibu to play Pepperdine. The Gophers open Big Ten play at Penn State before finally returning home to face Nebraska in their first home series March 29-31. That's, of course, weather-permitting.
"It's a challenge there's no question about it. Nobody to blame but myself, I built the schedule. It is what it is but more importantly, I've never shied away in my career from playing good people," Anderson said. "I think that's how you learn more about your own team. I think you get challenged against great competition, that's good for us."
For the players, who are first and foremost students, it means a lot of time on planes and homework in hotels.
Senior outfielder Ben Mezzenga remembers it well.
"My freshman year we did that as well and it was a grind if I remember right. We're going to have to take on that challenge and embrace it," Mezzenga said. Mezzenga hit .383 in 59 games last season with eight doubles, 24 RBI and 84 total bases.
If they're going to start strong, they'll likely ride the arms of pitchers Patrick Fredrickson and Max Meyers. They're both sophomores, and they're both coming off impressive first seasons.
Fredrickson was tough to beat, going 9-0 in 15 starts with a 1.86 earned run average. He struck out 73 batters in 97 innings, and opponents hit just .209 off him. Meyer became a fixture in the bullpen with 26 appearances and recorded 16 saves in 43 2/3 innings. He finished with 54 strikeouts, and opponents hit just .163 off him.
"I don't think anybody could've predicted what Patrick Fredrickson and Max Meyer did last year, impossible to do that," Anderson said. "I think the way they handled themselves, the way they competed, was pretty special."
Practice started indoors in late January for the Gophers, and the season starts Friday with a trip to Arizona. The Gonzaga team the Gophers open with won the West Coast Conference last year. New Mexico finished 20-33-1 last season, and Oregon State is coming off winning the national title.
The Gophers will learn a lot about themselves after the first four games.
"I look at that schedule and I'm pretty excited because it's really going to test us early. See where we need to be, what we have to do," Kozicky said. "That first weekend will really give us an idea of where we are and it will help us in the long run."