Former Twins infielder Brian Dozier retires after 9 MLB seasons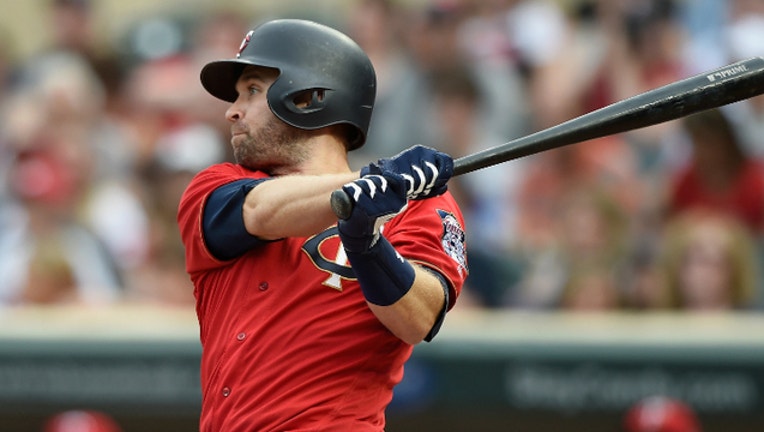 article
MINNEAPOLIS - After nine seasons in Major League Baseball and his first seven with the Minnesota Twins, infielder Brian Dozier has announced his retirement.
Dozier, 33, became a mainstay for the Twins' middle infield and earned a trip to the MLB All-Star Game in 2015. That year, he hit .236 with 28 homers and 77 RBI in 157 games. His best season with the Twins came in 2016, when he hit .268 with 42 homers and 99 RBI. His 42 homers in 2016 are the most by a Twins player in a single season since Harmon Killebrew.
Dozier helped lead the Twins to the American League Wild Card Playoffs in 2017. It was his only playoff game with Minnesota, and he led it off with a home run. Dozier has the most home runs in Target Field history with 80, and he joins Killebrew and Kirby Puckett as Twins' players to homer in an All-Star Game. He homered off Joakim Soria in the 2015 mid-summer classic.
He was a fan-favorite with the Twins, and a leader in the clubhouse before being traded to the L.A. Dodgers in 2018.
"I was so blessed to be able to play for such good managers, general managers throughout my career. People I'll respect forever and call friends forever," Dozier said Thursday via Zoom. "It was a blessing playing for Minnesota. You carry yourself the right way not only on the field, but off the field. It's not something they suggest, it's something they demand. I always took a lot of pride of trying to do things the right way. I tried to carry myself in a way that was good."
Dozier was joined on Thursday's call by former Twins managers Ron Gardenhire and Paul Molitor, former general manager Terry Ryan and former teammates Eduardo Escobar and Josh Willingham. Gardenhire, who managed the Twins from 2002 to 2014, joked that he got to watch Dozier grow up as a player but didn't get to see the payoff in 2015 and 2016.
"I got to watch him first hand in that dugout, watch him grow up and breakout into the big leagues. One of the nicest people I've ever been around in my life," Gardenhire said. "Of course after I left he started hitting bombs in the seats. He waited, so I got fired before I could actually enjoy it. I love you to death and congratulations on a great career."
Dozier won a World Series with the Washington Nationals in 2019, and played sparingly last season with the New York Mets before being released. He was contacted a few days later by the Toronto Blue Jays, but declined an offer to play there in 2021.
So what's next for Dozier? He's an avid hunter, now lives in Hattiesburg, Miss., and wants to play more golf. He owns his own real estate company, and he's a full-time father.
"I told my wife, I said this Covid thing is the worst thing that ever happened to us because I got to be home and wake my daughter up every single morning. I love doing this, there's nothing in baseball that's ever given me that happiness or joy that I was receiving," Dozier said.
Dozier hit .244 for his career with 192 homers, 561 RBI, 231 doubles and 21 triples in 1,144 career games. He says he can still physically play baseball, but his heart isn't fully in it and is at peace with his decision to retire.
He'll take his six-plus seasons with the Twins with him for the rest of his life.
"It truly is a family. Some of the best fans in baseball, and it's a special place to play," Dozier said.