Curry back, Gophers face pivotal game at Wisconsin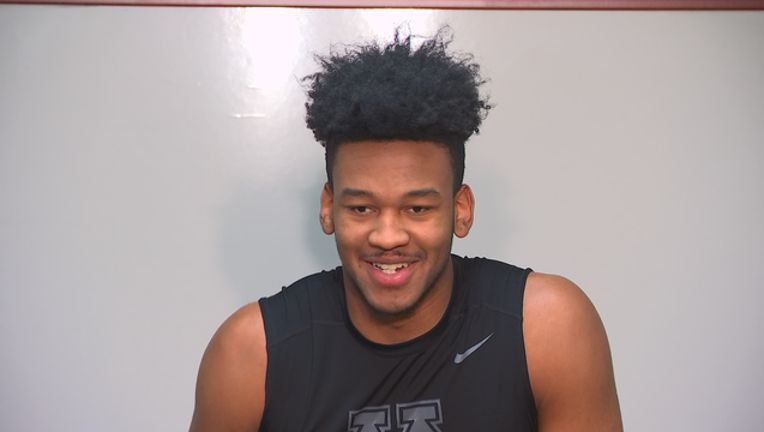 MINNEAPOLIS (FOX 9) - Eric Curry couldn't contain his smile or his excitement when he stepped on the Williams Arena floor against Mount St. Mary's on Sunday.
And why should he? The University of Minnesota redshirt sophomore was playing his first game action in nearly two years. He missed all of last season after tearing ligaments in his left knee. Then, set to return this season, he suffered another setback that required a knee scope and delayed his return until Sunday.
He entered the court to a standing ovation, playing 17 minutes and scoring four points while grabbing six rebounds.
"I was thinking about my mom. She told me a couple weeks before, 'Whenever your first game is, I think they're going to give you a standing ovation.' I didn't believe it, I was like why would they do that? We're just playing," Curry said. "I was imagining her watching the game, so it was just going through my head that she was probably crying."
Curry said he feels great and other than a little soreness, he felt no pain after the game.
His biggest fan is his mother, Audrea Phipps, who was also his biggest supporter as Curry went through rehab after his initial knee surgery. Curry said she called daily, both to check up on him and keep him in the right frame of mind during his recovery process.
Curry's other biggest fan is his head coach, who now has another player in his front-court that can provide defense and valuable depth.
"He was really frustrated with the recent scope, which I get, because he thinks he's coming back and then minor setback," Gophers coach Richard Pitino said. "I just told him in the grand scheme of things you still got a lot of time here. We want you healthy, we want you ready, so let's just take it slow. It was good to get some good reps last game for him. I think he looks good and he's confident right now."
Curry's return couldn't have come at a better time for the Gophers. With five new players, Minnesota is off to an 11-2 start. The Gophers finished 10-1 in the non-conference, lost at Ohio State to open Big Ten play and bounced back with a key home victory over Nebraska.
The Gophers head to Madison Thursday to face Wisconsin in the Kohl Center. It's a venue that hasn't treated Minnesota kindly of late. The Gophers haven't won there since Jan. 15, 2009, a 78-74 overtime win where Lawrence Westbrook scored 29 points.
Pitino is 1-8 against Wisconsin, and the Gophers have lost eight straight to the Badgers.
"I think winning in Madison would be a pretty big win for us. Obviously it's a rivalry and you never want to lose those type of games, especially on the road. I've never beaten Wisconsin before in my years here," senior forward Jordan Murphy said.
It comes down to playing with a higher intensity on a consistent basis in conference play. The Gophers were manhandled at Ohio State against a tougher, more physical and quicker team and didn't look ready to play in a 79-59 loss to the Buckeyes on Dec. 2.
Three days later, the Gophers rallied from a 13-point second half deficit to beat Nebraska 85-78. Amir Coffey scored 32 points to lead Minnesota in the first game after the death of Dupree McBrayer's mother. It was as critical as an early-December win can be.
"If you're going to physically not compete, you're going to lose like you did at Ohio State. You have to scratch and claw in this league, this is a toughness league and our guys have to bring it. They did that against Nebraska," Pitino said.
It's also a big opportunity for a road win in conference play that would help build a resume for the NCAA Tournament. The Gophers looked to be headed for a tournament run last year before the season was derailed by injuries and Reggie Lynch's suspension.
The formula in conference play, especially in the Big 10, has never changed: Win your home games, and steal a few on the road. To beat Wisconsin, the Gophers will have to find a way to contain Ethan Happ. He was voted to the Preseason AP All-America Team and was a First Team All-Big Ten pick last year.
Happ isn't a conventional post player, but he's effective and leads the Badgers with 19.2 points, 10.7 rebounds and 4.8 assists per game.
"Ethan Happ is maybe the most unique player that I've ever seen. He's unorthodox, not like any bigs out there right now, so we've got to do a good job of keeping him uncomfortable. He presents a lot of challenges," Pitino said.
Murphy is embracing what will be a tough defensive matchup, and his final trip to Madison.
"It's a chance to show the young guys about what being on the road in the Big 10 is all about. No game is going to be easy," Murphy said.