Bud Grant's impressive career resume outside of football
(FOX 9) - Bud Grant died this week at the age of 95, leaving behind an unmatched legacy as Vikings coach. But, outside of NFL coaching, Grant has an incredible resume.
Leaving high school as a three-sport athlete, and after serving in World War II, Grant came to the University of Minnesota in 1946 as a star football, basketball, and baseball player.
In football, Grant was a two-time All-Big Ten defensive end. In basketball, Grant was the Gophers' team MVP. His collegiate success landed him two career paths as a professional with the Minneapolis Lakers and the Philadelphia Eagles.
He first accepted the NBA offer, playing two seasons for the Lakers. As a rookie, the Lakers won a national championship.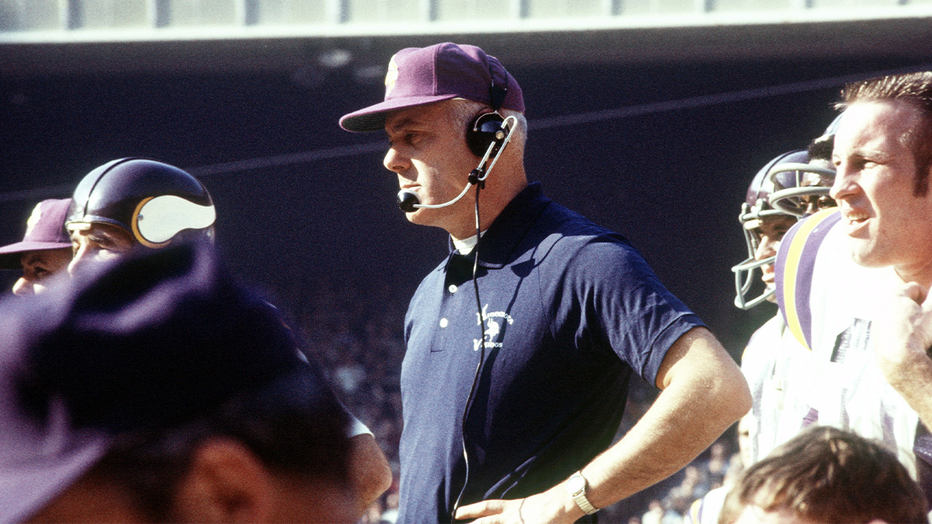 Pro Football Hall of Fame and Minnesota Vikings head coach Bud Grant commanding his team from the sidelines in the Vikings 19-10 victory over the Washington Redskins on 11/8/1970 at RFK Stadium in Washington D.C. (Nate Fine / Getty Images)
After two years in Minneapolis, he switched sports and joined the Eagles. As a linebacker, according to the Pro Football Hall of Fame, he led his team in sacks. But, in 1952, he switched positions to become a receiver and became one of the best wideouts in the NFL.
In 1952, he finished second in the NFL in receptions and receiving yards and fifth in touchdowns. After a contract disagreement with the Eagles, Grant went north and played for the Winnipeg Blue Bombers.
Outside of professional sports, Grant was also known to spend some time in the summer cashing a few checks as a town ball ace.
Speaking with Jim Rich in 2020, Grant recounted his town ball exploits.
"Baseball was so popular… and town ball was lucrative. I made more money playing town ball than I did playing with the Lakers," recounted Grant. "I started up in Gordon, Wisconsin, and went from there to Osceola to Stillwater to Hastings. As a pitcher now, I could pitch and hit. I could bat clean up. And I was maybe a little bit better than most of them. But I didn't go on into baseball beyond town ball. I talked to people about if I had to go on and played for the White Sox, they wanted me to go to Arkansas and play in class C. No, I wasn't going to live in Arkansas and ride the bus around. I could stay home and make more money playing town ball."
Playing in college in Gordon, Grant said his team had a near-perfect record of 63-3. But, while playing for a team, he would also sometimes take work as a "hired gun."
"I was kind of a hired gun. I'd pitch on Sundays for Gordon or Osceola or Hastings or Stillwater," Grant explained. "But then, during the week, sometimes, teams had grudge games or they had other games they played against local teams or they had festivals or celebrations and needed another pitcher. Well, I could pitch three games a week. So I was hired. But my going rate was $50, which was a lot of money, and not everybody could afford $50. But on special occasions, they could."
After his playing days in all three sports, Grant moved on to coach. In 1957, he accepted an offer to lead the Blue Bombers. Quickly, his pedigree as a football coach was apparent. Over the next decade, he won four Grey Cup championships for Winnipeg. He still ranks in the top ten for career wins as a coach in the CFL, where he is also obviously also a Hall of Famer.
After Winnipeg, Grant came back to Minnesota and racked up 168 career wins, four Super Bowl appearances, the 1969 Coach of the Year award, a spot in the Pro Football Hall of Fame, and a coaching tree that includes Super Bowl champions Pete Carroll and Buddy Ryan (as an assistant). With all of his accomplishments, Grant ended his life as the greatest Minnesota Vikings coach ever.