Buckle Up! NASCAR revs up for 75th season with celebration, changes
DAYTONA BEACH, Fla. (AP) - Kevin Harvick is looking for the exit ramp as he enters his final season as a NASCAR driver while seven-time champion Jimmie Johnson is sliding back into stock cars.
Harvick's farewell tour will come nine years after his only Cup Series title and ahead of a move into the broadcast booth. Johnson, after two years in IndyCar, has returned to NASCAR as its newest team owner.
Petty Enterprises, an emblem of NASCAR since shortly after the series' 1948 launch, has rebranded once again and is now Legacy Motor Club. Johnson will sometimes drive for the team he co-owns; this week, for example, he will attempt to qualify for Sunday's Daytona 500.
RELATED: ARCA driver Toni Breidinger becomes Victoria's Secret model: 'Little me is crying'
This 75th season of NASCAR begins Sunday with the big race and it will be a year of celebration and transition.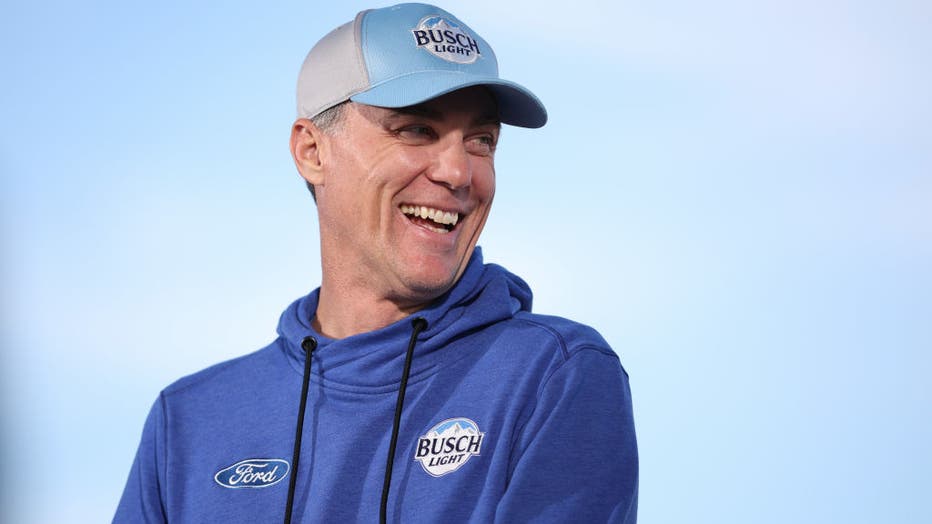 LOS ANGELES, CALIFORNIA - FEBRUARY 04: Kevin Harvick, driver of the #4 Busch Light Ford, speaks to the media prior to practice for the NASCAR Clash at the Coliseum at Los Angeles Coliseum on February 04, 2023 in Los Angeles, California. (Photo by Jam
Veteran drivers are making room for potential new stars that the public must learn to love. Series leadership is negotiating with its current television partners with the $8.2 billion deal with Fox and NBC set to expire at the end of the 2024 season. NASCAR owners are also demanding a more stable financial model that makes their success less dependent on outside sponsorship.
And then are the frantic changes NASCAR is making to protect its drivers in the second year of the Next Gen car. The rear of the car proved too stiff last year and the energy drivers absorbed in routine collisions led to concussions — including one that ended veteran Kurt Busch's career.
RELATED: WATCH: Deaf dog saved from euthanasia drives around Daytona Speedway
Alterations made during the offseason lacked the desired effect at the preseason Busch Light Clash exhibition at the Los Angeles Memorial Coliseum, where low speed bumping and banging left drivers complaining about the "violence" of the race, including the jarring whiplash effect they felt each time their rear bumper was slammed.
"We think the changes are certainly heading in the right direction, but from an engineering perspective obviously there needs to be more attenuation in the rear of the car to absorb more of the energy," David Wilson, president of Toyota Racing Development, told The Associated Press.
"There's no question that that they've made a steep change. The first car that gets backed in the wall, everyone's going to be paying attention, right?" Wilson added. "(One) of the questions is: What impact will it have on the rest of the car, now that they've softened up the rear of the car?"
A look at NASCAR's upcoming season beyond Harvick, Johnson, Joey Logano, Austin Cindric and a host of other key drivers to watch:
New races and rules
NASCAR continued this year to tweak a schedule that went decades with little to no change. This year, the All-Star Race moves to North Wilkesboro Speedway for the first Cup race at the historic North Carolina track since 1996.
NASCAR on July 2 will also run its first street course race, in downtown Chicago. And the first race of the year at Atlanta and the playoff race at Texas have both been reduced from 500 miles to 400 miles.
Stage breaks have been removed from road course races. If a wheel comes off a car while on track it will now only be a two-race suspension. It was a four-race suspension last year that included the crew chief, who will no longer face punishment.
Financial models 
The top teams in NASCAR took an unprecedented step last year in publicly discussing their finances while arguing the sport's business model is not sustainable.
Teams want a larger piece of the television package, the bulk of which is currently paid to the racetracks. NASCAR itself owns 11 facilities on the Cup schedule, not including the races it promotes at the LA Coliseum and in Chicago.
RELATED: Safest vehicle? Armored Lexus LX 600 SUV now on sale
"We'll get it figured out," NASCAR president Steve Phelps told AP. "We need to have financially healthy teams, and financially healthy teams put a better product on the racetrack. The discussions that we are having with our race teams right now is: how do we look at four different areas that we think are important for the overall health of the sport? Increase revenue, some type of cost parameters around our sport, things that will aid from a governance standpoint, and then literally how do we grow the sport together. Those are what our discussions are centered on."
Television package
NASCAR has entered its exclusive negotiating period with current television partners Fox and NBC Sports, with its current deals with the networks set to expire at the end of the season.
How much cash NASCAR secures in its next deal and its distribution is key to making peace with its ownership, a group that has expanded in the last two seasons to include Michael Jordan with 23XI Racing and Pitbull as part-owner with Justin Marks at Trackhouse Racing.
The negotiating period with Fox and NBC began on Feb. 1, and NASCAR can begin talking to other suitors on May 1.
"The great news for us is we have two media partners who are very interested in coming back," Phelps told AP. "We do know that there are others who have expressed interest if we get to the third party window. A lot will depend on how this 90-day period goes with our existing partners to see when we get to a third party window. But it is comforting to know that the fruits of our labor over the last three or four years has taken root and that not only our existing partners are interested in returning, but there are a significant number of others who have expressed interest publicly. Which is fantastic."