'A dream job': Ben Johnson introduced as Gophers basketball coach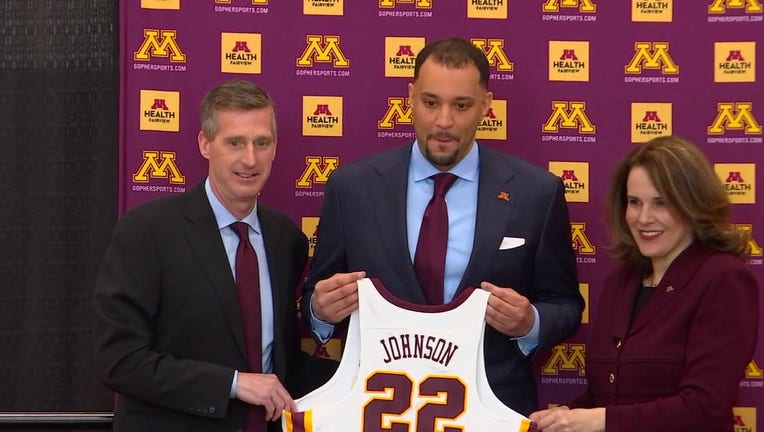 MINNEAPOLIS - The University of Minnesota made it official Tuesday morning: Ben Johnson is the new face of Gophers men's basketball.
A program coming off a 14-15 season, two NCAA appearances in the last eight years and one finish above .500 in the Big Ten under Richard Pitino needed a change. The feeling within the Gophers' athletic department is they need to compete for championships, and do it with Minnesota players if possible.
Enter Johnson, who played for the Gophers for three years, was a two-time captain and is a Minneapolis native. He's the program's third recent Black head coach, joining Clem Haskins and Tubby Smith. You won't find a much more respected name in local basketball circles, and now it's his job to keep as much of that local talent home.
"We feel very comfortable and we're confident that we got the best person for Minnesota basketball to take us to the next level that this program deserves," Athletic Director Mark Coyle said Tuesday. "I am absolutely convinced that we found the best person to lead this program."
Johnson, 40, has been an assistant coach at six different programs over the last 17 seasons, including five years at Minnesota under Pitino. He was most recently the lead assistant at Xavier under Travis Steele, helping the program get consecutive recruiting classes ranked in the top 30 in the country.
Eight days ago, Coyle parted ways with Pitino after eight seasons. The process for Johnson started with a Zoom interview. He traveled to Minnesota to meet in-person with Coyle and President Joan Gabel last weekend, sporting a Gophers' pullover. He had some nerve-wracking and tense moments until he got a call from Coyle. He was announced Monday night as the next Minnesota coach.
Johnson met with the media for the first time on Tuesday.
"This is a special day for me. Couldn't be more excited to come home and be home. This is home. When you talk about a dream job and a dream opportunity, this is home and I've hit it. This is full circle for me," Johnson said.
Recruiting was the biggest topic to come out of Johnson's introductory news conference. There is a lot of basketball talent in Minnesota, and more of it needs to be staying home. Nobody knows it more than Johnson, who played for the Gophers for three seasons after starting his college basketball career at Northwestern. Johnson graduated from Minnesota in 2005.
Johnson is back home where his life in basketball started. The Minneapolis native and former DeLaSalle star, who scored more than 2,200 points and won two state titles with the Islanders, will now get his coaching stool on the raised floor at Williams Arena. He considers coaching the Gophers his dream job, and it's now on his shoulders to get the program back to regularly competing for Big Ten titles, and going to the NCAA Tournament.
He was the main reason local stars like Daniel Oturu, Gabe Kalscheur, Jarvis Omersa and Amir Coffey stayed home. But too many times in the last eight years, other top talent has gotten away. Johnson hopes to change that.
So what's his message to current high school prospects and those in the NCAA transfer portal? Come play at Williams Arena.
"There's a lot of magic still left in there that we're going to dig out. When it's rocking, there's not an arena in the country that's louder," Johnson said. It's who we are in my opinion, and it's what we're about. When I grew up, that was a big deal. Williams Arena and The Barn was a big deal. When we win, it's going to get back to being a big deal."
Johnson has not been a head coach, but is widely respected among Minnesota high school and AAU basketball circles. He was inundated with congratulatory messages, between texts and social media, when his hire became official.
He's also respected nationally. One of the first coaches to congratulate him on the new gig? Tom Izzo at Michigan State.
Coyle, who worked closely with the basketball programs at Kentucky and Syracuse before coming to Minnesota, said he's heard from the high school and AAU scene since the announcement. Their message to Coyle? "Home run hire."
Johnson once played in front of a full Williams Arena. He now gets his chance to fill it again, coming to Minnesota on a five-year deal. He's already been in contact with top local recruits, saying the phone calls started the second his plane landed in the Twin Cities and he had cell phone reception.
"Minnesota is really hungry to get this thing back rolling. I think the state of Minnesota knows what Gopher basketball is all about, and the passion with Gopher basketball," Johnson said. "We have a lot of talented players that understand how to play. We've got to do our job within the state to keep those guys home. I want every kid, just like myself, they need to be looking forward to one day playing at Williams Arena. They need to look forward to trying to become a Gopher."