Woman allegedly finds frog in her box of Barilla pasta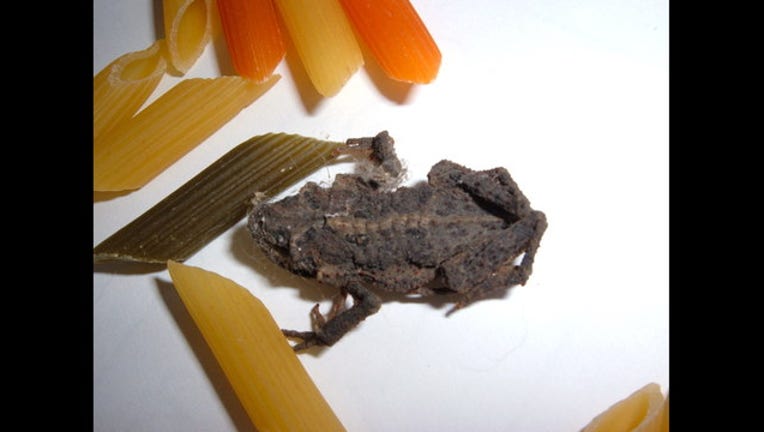 article
EAGAN, Minn. (KMSP) - A Minnesota woman said she recently found a frog in her box of Barilla tri-color penne pasta. Barilla has since conducted an investigation into the incident.
"I had used one-half of the box and put the other half in the cupboard, then my husband knocked it off the shelf," Penny Hagen told Fox 9. "The pasta fell directly on the floor with the petrified frog."
Hagen said they were lucky the frog fell on the floor before one of them could've eaten it. She then reached out to Barilla and AIG Insurance. Both have case numbers for the incident.
"Barilla had sent me a package to return the pasta, the box and the frog," Hagan said. "I returned it to them right away."
Christine Nikutin, consumer relations for Barilla, responded to Fox 9 on Tuesday regarding the incident.   
"Barilla is aware of the isolated report regarding a foreign element in a box of Barilla pasta," the company stated. "Once we received this report, we immediately took action to coordinate directly with the consumer and have connected via phone, email and mail. We have also retrieved the product in question to investigate any deviation from our manufacturing and packaging processes."
But Hagen said she's frustrated that the company only offered to send her coupons, and believes she should be further compensated --"I think Barilla has not taken this as serious as they should have," she said.  
Barilla told Fox 9 that their products "undergo a rigorous quality and safety inspection which prevent any introduction of foreign element into the product." Nikutin went on to add, "In addition to Barilla's internal review, an independent, third party lab also confirmed that, based on available information, there were no foreign elements in this product while the product was under Barilla control."
Hagen said she got the impression from Barilla that they thought she was making it up -- "My kitchen floor is very clean, and I would not have a petrified frog laying on it. I could eat off my kitchen floor," she said.
As for the coupons, Hagen said she has yet to receive them after their "so-called investigation."