Widower Honors Deceased Wife and Soldier in a Special Way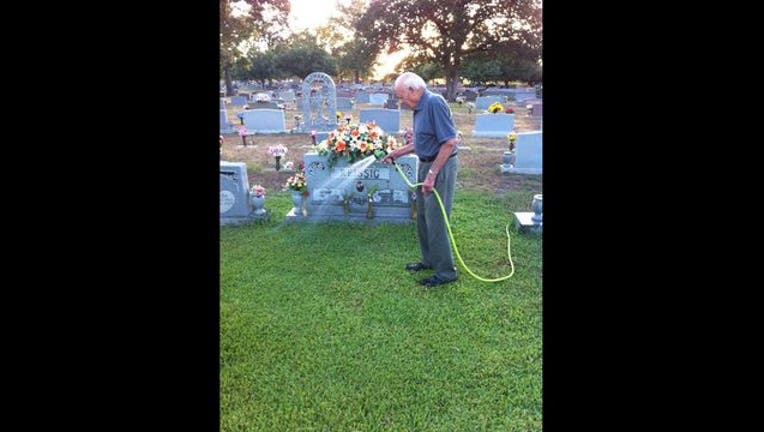 article
CONROE, Tx- Jake Reissig lost his wife over a year ago. To honor her memory, the 86-year-old visits her grave twice daily.
He's now developed a routine- every morning he clips roses from his rose garden and delivers them to her grave site. He also hooks up a hose and waters the grass around the grave.
"With the recent drought, and hers being the only graves getting watered," said Reissig's son Roger. "You can see that Moms stands out from the rest and is very beautiful."  
During one of his daily trips Reissig encountered a lone woman, crying uncontrollably at a grave not far from his wives. He spoke with her, and found out that her husband had been a Staff Sergeant in the US Air Force when he passed away in 2010.
The pair talked for a while, and Reissig was so touched by the woman's story he wanted to do something special for the soldier.
"Dad decided to honor this soldier and start watering his grass along with Moms Daily," said Roger. "He does it every day. He said it is the least he can do for him after all that he sacrificed for us."
Roger said he's proud of his father and has shared photos of him on Facebook.
"Roger, your father is an inspiration to all," said user Molena Sanders Dowell. "Thank you for sharing this lovely, heartwarming story of true love and dedication."