Weather.com trolls Trump over exit from climate change deal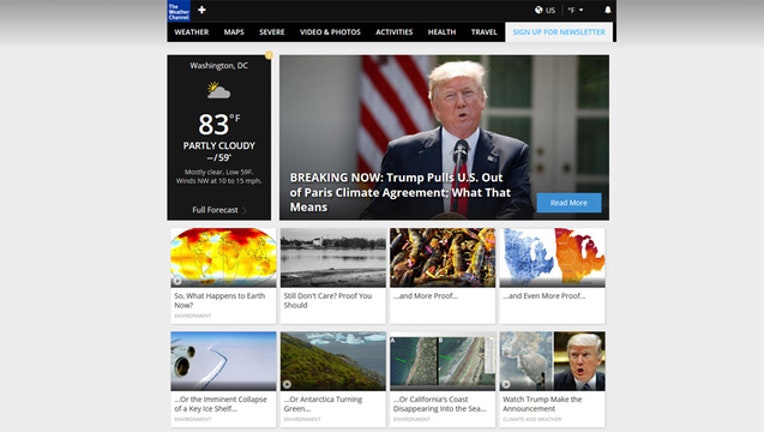 article
The Weather Channel trolled President Trump during and after his announcement of a withdrawal of the United States from the Paris climate change agreement.
Weather.com featured a front page filled with stories about the effects of climate change on the Earth.
The headlines read: "So, What Happens to Earth Now?" "Still Don't Care? Proof You Should," "…and More Proof…," "…and Even More Proof…," "…Or the Imminent Collapse of a Key Ice Shelf…," "…Or Antarctica Turning Green…," "Or California's Coast Disappearing Into the Sea…"
Trump said Thursday the Paris accord is more about other nations gaining a "financial advantage" over the U.S. than it is about climate change. The president said the agreement gives "countries an economic edge over the United States," adding, "that's not going to happen while I'm president."
Nearly all Republicans came out in support of Trump's move, but there was a large amount of criticism from business leaders, Democrats and other countries.
Former President Barack Obama says the Trump administration is joining "a small handful of nations that reject the future" by withdrawing from the Paris climate change pact. He says the countries that stay in the Paris deal will "reap the benefits in "jobs and industries created." He says the U.S. should be "at the front of the pack."
German Chancellor Angela Merkel says she regrets President Donald Trump's decision to pull out of the Paris climate accord.  Her spokesman, Steffen Seibert, said Thursday on Twitter that Merkel would continue to put all efforts into climate policy "to save our Earth."
Former Mexican President Vicente Fox let loose Thursday with a series of tweets, saying Trump's decision "condemns this generation and those to come." He accused Trump of "leaving a dark legacy just to satisfy your greediness" and surrendering the nation's future.
Trump also lost the support of a top billionaire business leader over his decision. Elon Musk wrote on Twitter that he is "departing presidential councils," something he had vowed to do if Trump took this step. Musk tweeted: "Climate change is real. Leaving Paris is not good for America or the world."
Musk is the founder of SpaceX and Tesla among other companies. He's been a member of Trump's infrastructure council, manufacturing jobs council and strategic and policy forum.
General Electric CEO Jeff Immelt, another member of Trump's business councils, said on Twitter that he is "disappointed" with Trump's decision on Paris. Immelt tweeted, "Industry must now lead and not depend on government."
The Associated Press contributed to this report.