Watch: Firefighters rescue bride and groom stuck in elevator for 2 hours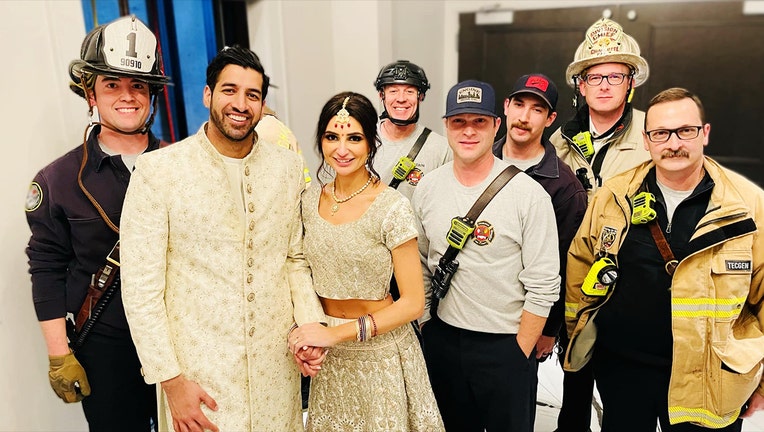 article
CHARLOTTE, N.C. - When Panav and Victoria Jha got married, they had some unexpected guests: Firefighters with the Charlotte Fire Department.
On Feb. 19, the couple, along with other members of their wedding party, got stuck in an elevator for two hours at a North Carolina hotel. 
"Although Charlotte Fire wasn't formally invited, we weren't exactly wedding crashers either," the fire department posted on its Facebook page. 
RELATED: 'Fire-breathing demon' dog looks for forever home after being returned 3 times
Officials said the rescue took place in the morning when six people became trapped in a hotel elevator between the first and second floors. 
"When it first happened, I thought it had stopped for a few seconds. It'll restart. And then we noticed that the door was just slightly ajar," groom Panav Jha told WJZY.
"Elevator had a glitch and here we are. It had to happen with the groom and I both stuck in the elevator. So, at least it wasn't just one of us," bride Victoria also told the outlet. 
Crews had to hoist people through the top of the elevator, allowing them to safely exit on the fourth floor. They posted a video of the rescue on their social media page. 
RELATED: Silicone sex doll mistaken for human remains in Pennsylvania town: police
As they were rescuing the wedding party, one of them remarked, "Please get my sister out next. She's the one in the wedding dress."
No injuries were reported. 
"Mr. and Mrs. Jha, we hope today is the start of a long and happy life together," the department added. 
This story was reported from Los Angeles.