Washington County Attorney Pete Orput dies at age 66
(FOX 9) - Longtime Washington County Attorney Pete Orput passed away Sunday, less than two weeks after learning he had stomach cancer.   Orput planned to retire when his current term expired later this year.  His sudden death has his office stunned.
"This is devastating. It was fast and devastating," said Assistant County Attorney Kevin Magnuson, who Orput endorsed to succeed him.  "We're all shocked at how fast it progressed."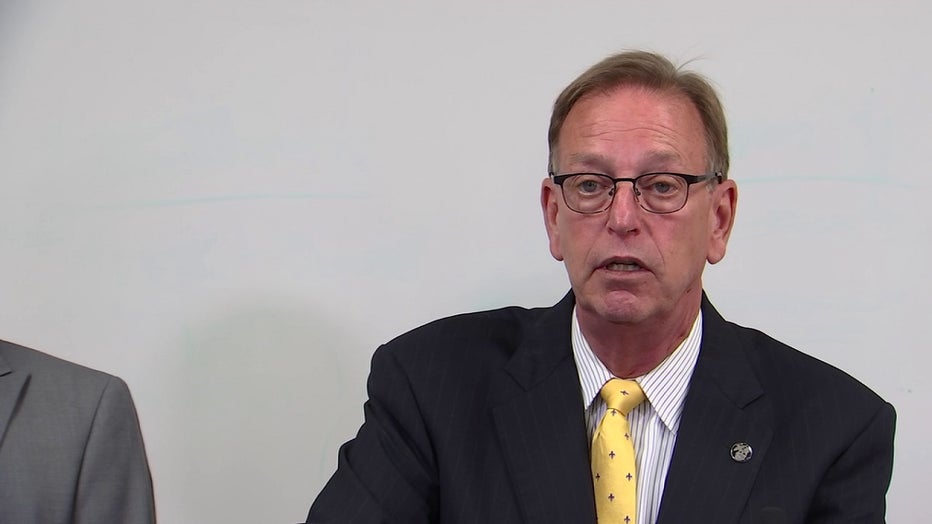 Former Washington County Attorney Pete Orput during a news conference (FOX 9)
Magnuson said Orput was diagnosed with cancer on March 23.  The prognosis was grim, but no one expected his death so quickly.
"You know, we're grieving together," said Magnuson. "We spent a lot of time over the noon hour just sort of telling, trying to top each other with who had the funniest Pete story because he was hilarious."
Orput was first elected Washington County Attorney in 2010.  Before that, he worked as an assistant in Mille Lacs, Carver, Dakota and Hennepin counties.  A veteran of the Marines, Orput was known to be straightforward and profane, an outsized personality who mixed being tough on crime with compassion to give second chances.
"There was a lot more than just locking people up," said Magnuson. "He really was looking to address the root causes of crime and then gave people who wanted to a chance to turn their life around."
Among Orput's legacies are starting a Veteran's Court, recognizing that those who serve often deal with lifelong stress from their time in service and that the criminal justice system needs to address those issues differently.
He also tackled the opioid crisis, partnering with other county attorneys to sue drug manufacturers, while also aggressively going after drug dealers who continued to fuel addictions.
Orput also put sex traffickers in his cross-hairs, helping establish a coalition of law enforcement to tackle the online sex trade.
"His duty to serve is going to be unmatched by anyone," said Washington County Sheriff Dan Starry, who first met Orput in the early 1990s.    "Just his passion to make sure the victims were cared for and listened to."
Starry said Orput was both a great friend and a great partner, often reaching out to coordinate their work, and encouraging Starry to join him in constant public events.  He said that community engagement is another thing that will be a long-term change in the county.
In fact, Orput spoke at a public event just last week, days before he died.
"I saw him last Thursday and we had a very nice chat," said Starry, trying to keep his composure.  "All of our chats over the years, there's just so many that run through my head. I'm going to miss him."