Vikings WR Cayleb Jones charged with domestic assault of girlfriend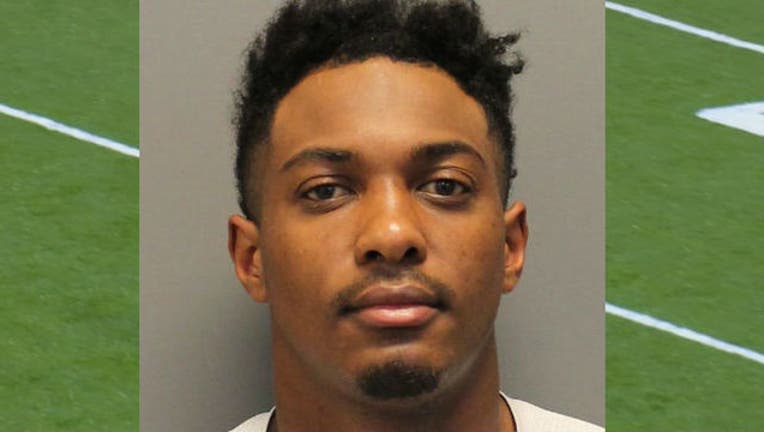 article
EAGAN, Minn. (KMSP) - Minnesota Vikings wide receiver Cayleb Jones has been charged in connection with an alleged domestic assault involving his girlfriend at a hotel in Eagan. Jones, 25, was arrested Tuesday afternoon and booked into the Dakota County Jail. He faces one felony count of theft by temporary control, a misdemeanor count of domestic assault and a gross misdemeanor count of interference with an emergency call.
According to the criminal complaint, officers were called to the hotel in Eagan on Aug. 28 for a 911 hang-up. While officers were en route, Jones' girlfriend called 911 again to report that Jones put his hands on her. During that second phone call, the victim told the dispatcher that Jones was trying to leave and the line disconnected suddenly. When dispatch called the number back, a man answered the phone but quickly hung up.
According to the charges, the victim told police that she got into an argument with Jones in their room on the fourth floor of the hotel. The argument turned physical and, at one point, Jones allegedly picked his girlfriend up and threw her down.
The altercation spilled out into the hallway where Jones allegedly kicked his girlfriend. She told him she was calling the police and got into an elevator.
According to the charges, Jones intercepted the elevator on the second floor and smacked the phone out of his girlfriend's hand. She told police that Jones picked up the phone and ran off. Jones' girlfriend tried to ping her phone using an iPad, but it appeared someone had removed the SIM card and deactivated the phone.
Officers observed rug burn on the victim's left hand, left knee and left shin, a scratch on the right side of her neck and a broken nail on her hand.
A hotel employee who was in an adjacent room told police they heard two loud booms coming from the room. Another witness staying in a room across the hall said they heard a disturbance in the hallway and "it sounded bad." That witness said she texted the victim after she heard the disturbance asking if she was okay.
Vikings general manager Rick Spielman released the following statement after the arrest: "We are aware of the situation involving Cayleb Jones and are in the process of gathering more information. Further comment will be provided at the appropriate time."
According to an unofficial depth chart released by the Vikings earlier this month, Jones is listed fourth on the depth chart at wide receiver. The Vikings play in their fourth and final preseason game Thursday night.