Vikings to place Justin Jefferson on IR with hamstring injury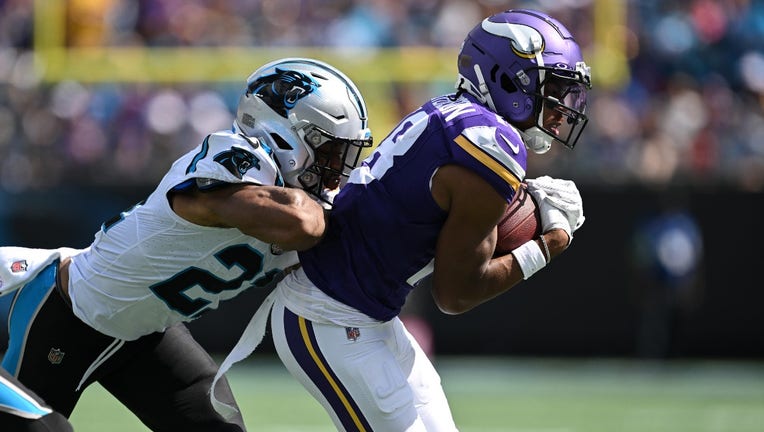 article
EDEN PRAIRIE, Minn. (FOX 9) - The Minnesota Vikings are off to a 1-4 start, and they're now without their top offensive weapon for at least a month.
According to Tom Pelissero with NFL Network, the Vikings plan to put star receiver Justin Jefferson on injured reserve this week with a right hamstring injury. Jefferson suffered the injury during the fourth quarter of the Vikings' 27-20 loss to the Kansas City Chiefs on Sunday at U.S. Bank Stadium. He was running a route, slipped on the turf and grabbed for his right hamstring before heading to the medical tent.
Jefferson had three catches for 28 yards before having to leave the game, and did not return. Placing Jefferson on IR means he will miss at least the next four games, and the Vikings will have to determine when he can return based on how he responds to treatment.
Minnesota's next four games at the Bears this coming Sunday, hosting the 49ers for Monday Night Football on Oct. 23, at the Packers Oct. 29 and at the Falcons Nov. 5. The earliest Jefferson could return is against the Saints on Nov. 12 at U.S. Bank Stadium.
Vikings coach Kevin O'Connell said Monday Jefferson tried to go back in the game after being looked at in the medical tent, but they ruled him out.
"He's down today, he's one the most ultra competitors I've ever met. Shoot, he was trying to go back in the game as it was yesterday. We're going to have to medically make a good decision and help almost protect him from himself," O'Connell said. "We've got to take care of him and get him back to 100 percent."
Jefferson led the NFL last season with 128 catches for 1,809 yards, and was flirting with Calvin Johnson's single-season receiving yards record. He's a three-time Pro Bowl pick, was First-Team All-Pro last season and was named the NFL's Offensive Player of the Year.
One thing O'Connell said the Vikings will not do is rush Jefferson back. He wants his star receiver at 100 percent before returning to the field. Jefferson has never missed a game in his career due to injury.
"You start asking yourself the question at what percent is having him out there still give us the best possible chance to win? That's not the way to go about it with a player of that kind of importance to our team, our organization, everything we want to do," O'Connell said. "The goal now is to get him healthy as fast as possible."
The other wrinkle in play is that Jefferson and his representation sought a new contract in the offseason. The Vikings and Jefferson could not reach an agreement before Week 1, and at 1-4 with playoff hopes slipping away, his return could be pushed back if the Vikings don't turn things around quick.
Without Jefferson, Kirk Cousins turns to Jordan Addison, K.J. Osborn, T.J. Hockenson, Josh Oliver and even Alexander Mattison. Addison had six catches for 64 yards and his third touchdown of the season on Sunday. The Vikings had nine drops in the loss, with Hockenson having three.