VIEW: Police release full Michigan State University shooting timeline, shooter's note
EAST LANSING, Mich. (FOX 2) - Michigan State Police released a more detailed timeline of the deadly shooting on campus last month, along with a note the shooter had when he shot himself.
Eight students were shot, three fatally, Feb. 13 on MSU's campus. About 3 ½ hours after the shooting started, shooter Anthony McRae killed himself off campus when approached by police. However, he had left campus less than 10 minutes after the first shooting report came in at 8:18 p.m.
Read: McRae's note highlighted other targets, mindset before crime
From Feb. 13 to Feb. 14, between the hours of 8 p.m. and 1 a.m., Ingham County 911 received 2,100 phone calls, with 1,450 being 911 calls. This is the equivalent of 2 ½ days' worth of calls for the dispatch center, all within a five-hour period, police said.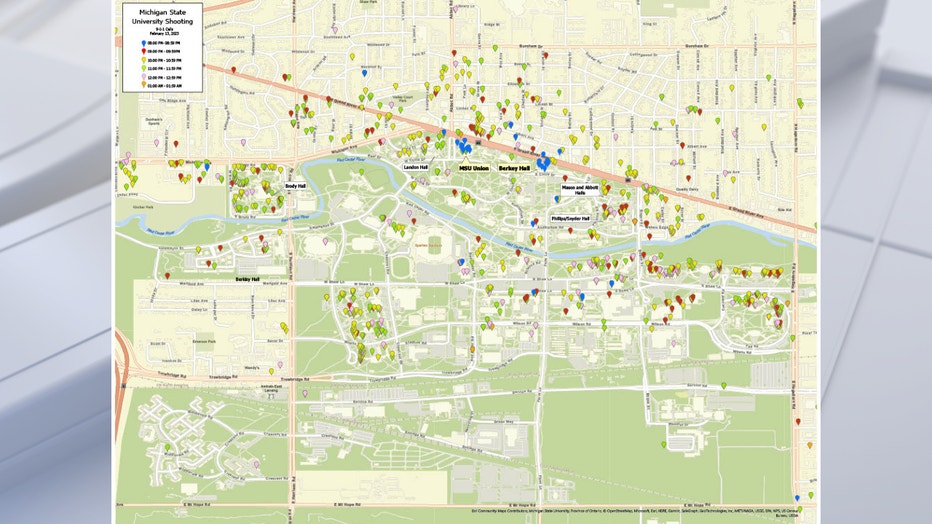 Also, there were 3,136 radio "push to talks" by police officers on the primary shared radio dispatch talk group used by MSU Police and Public Safety and the East Lansing Police Department. A "push to talk" is every time an officer or dispatcher pushes the button to transmit on their two-way radio.
More: Thousands raised for dispatcher who fielded 911 calls during MSU shooting
During the investigation, police released surveillance photos of the then-unidentified suspect, and a 911 led them to his location on Lake Lansing Road.
MSU shooting timeline:
8:18 p.m. – First shots fired call at Berkey Hall received by Ingham County 911
8:20 p.m. – Officers entered Berkey Hall
8:24 p.m. – Shooter Anthony McRae entered the Union
8:26 p.m. – First report of shooting at the Union
8:26 p.m. – McRae exited the Union and left campus
8:27 p.m. – Officers arrived at the Union
8:30 p.m. – First emergency alert notification sent
8:31 p.m. – Second emergency alert notification sent
11:18 p.m. – Photo of suspect shared on MSU DPPS social media
11:35 p.m. – Ingham County 911 receives call of person matching the description walking on Lake Lansing Rd near High St in the City of Lansing
11:49 p.m. – Officers approach McRae and he shoots himself
Police are still investigating the route McRae took when he left campus. 
While investigating, police found that McRae had a note that listed other targets and had some of his mindset. The note was dated the day before the rampage.
"They made me who I am today a killer," McRae wrote.
McRae also claimed in the note that he was working with other people who would hit the other targets, which are redacted from the publicly released note, but police say this is untrue. MSU police, Michigan State Police, and the FBI determined this through their investigation.