Video: Michigan volunteers remove Halloween bucket stuck on deer's head for '2 weeks'
LANSING, Mich. - A neighborhood group in Lansing, Michigan, successfully removed a Halloween bucket from a deer's head on Sunday, which media reported had been stuck on the animal for weeks.
Local media, citing witnesses, reported a young deer had been roaming Lansing with the plastic pumpkin candy bucket on its head for two weeks.
Video recorded by the South Lyon Murphy Lost Animal Recovery on Jan. 22, shows a net falling over the deer (named Lucky) before volunteers carefully hold down the animal and release the bucket. The deer is then released into the wild. 
"Lucky has been released from his pumpkin prison," the rescue group wrote in a post on Facebook, adding, "On Halloween remind the folks that are trick or treating to cut the handles. We can prevent this. Deer are sooooo curious, like all life is. We are stewards of nature and we all can do a better job." 
According to local media, the group helped resolve a similar situation in the Detroit area in December. 
RELATED: Moose rescued from frozen lake after being stuck for hours
"This was an amazing recovery. I am honored," the rescue continued. "Everyone worked like a well-oiled machine, and we were able to in under three minutes be able to successfully capture him, cut the bucket off, detangle him, and then safely release him."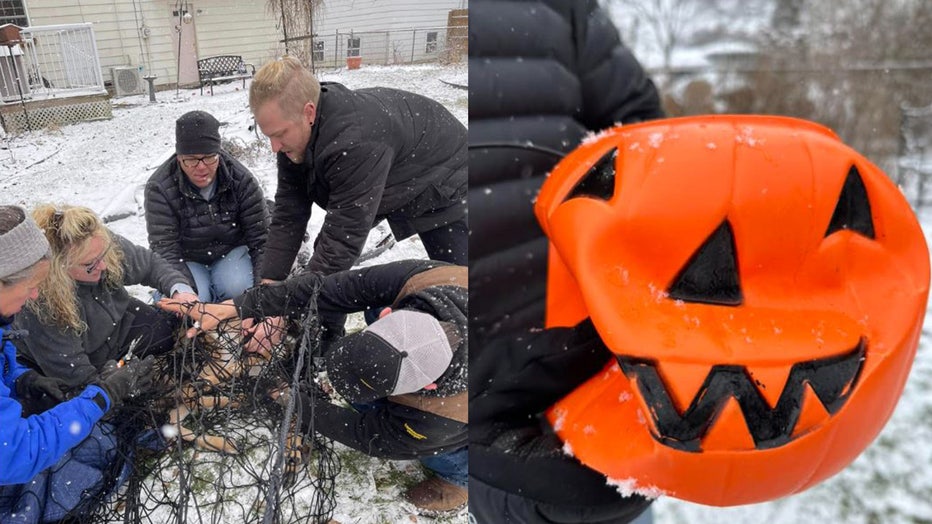 Deer rescued (Credit: South Lyon Murphy Animal Recovery)
Last month, a buck was spotted walking around Dallas, Oregon with Christmas lights attached to its antlers. 
Thanks to a call from the Dallas Oregon Police Department, ODFW staff were able to locate and dart the buck to remove the lights.
"To all you Clark Griswolds out there, we know you love decorating for Christmas, but this is a step too far!," ODFW said in a post on social media. 
Linda Reed, a resident in the area, also shared a video of the buck walking through her yard last week.
"I'm glad he was released from his Rudolph duties!," Reed said. 
Officials said no injuries were found on the buck, and he quickly got up and took off. A yellow ear tag was placed in each ear for identification purposes.
RELATED: Deer spotted running around Oregon neighborhood with Christmas lights
ODFW says bucks rub their antlers on trees, bushes and other objects from October through mid-December to mark their territory and show dominance against other bucks. 
This story was reported from Los Angeles. Storyful contributed..