Joan Gabel leaving University of Minnesota to take job with Pitt
MINNEAPOLIS (FOX 9) - After slightly less than four years on the job, Joan Gabel is leaving her role as President of the University of Minnesota to become chancellor of the University of Pittsburgh.
Her track record at the University of Minnesota has drawn praise and scrutiny. She steered the U through the challenges posed by the COVID-19 pandemic and the racial reckoning following the murder of George Floyd in 2020. 
In 2021, the university's board of regents voted to give her a 35% raise after a contentious debate, bringing her total compensation to more than $1 million. When she renewed her contract last year, she received $706,000 yearly in base pay, $250,000 in supplemental retirement contribution, a performance bonus worth up to $100,000 in 2023 and beyond, a $10,000 car allowance, and a $15,000 executive physical allowance.
Earlier this year, Gabel was heavily criticized for taking a paid position on the board of Securian Financial, which has more than $1 billion in business with the University of Minnesota. She resigned from the position on Jan. 23.  
She will start her new position on July 1, according to a press release. In her contract, Gabel had the power to leave the university at any time, for any reason, with 90-day notice.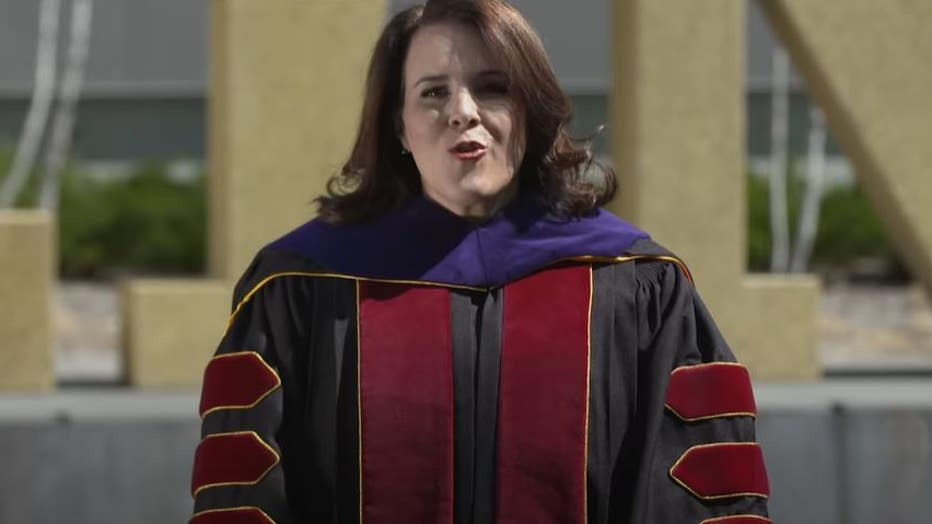 University of Minnesota President Joan Gabel gives a commencement speech to the class of 2020. (Image courtesy of the University of Minnesota)
"I have a family connection. My son is a student there. I've known about the university for a long time," said Gabel.
Gabel is the first female president of the University of Minnesota and she will be the first woman to lead the University of Pittsburgh as well.
"I personally was not particularly surprised, but it's been a very disappointing administration that she's run," said former Governor Arne Carlson.
Carlson says Gabel has focused on her own interests and increasing the salaries of top administrators instead of student success and well-being.
"She spent the bulk of her time making life better for herself and doing very little for the students," said Carlson.
But Gabel says students are at the heart of everything she has done at the U.
"I go to bed at night and wake up in the morning thinking about students. No one does this job or continues to do this job if they're focused on anything else," said Gabel.
The U is also getting ready to take on four new regents for people whose terms are expiring.