Ukrainian youth team draws inspiration from vets at USA Cup 'It's bigger than soccer'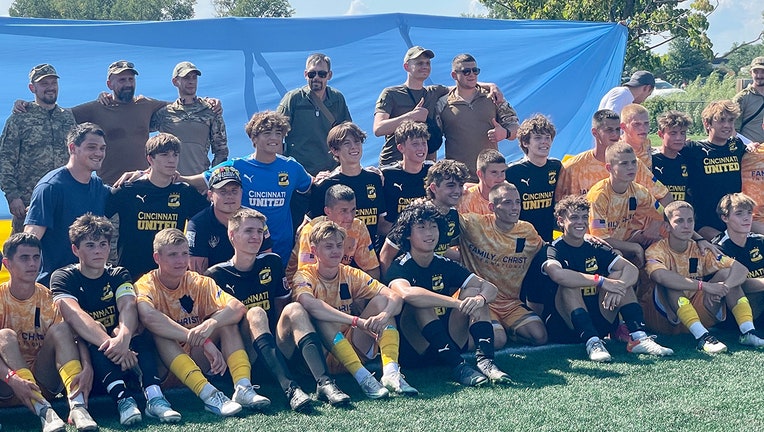 article
BLAINE, Minn. (FOX 9) - At first glance, the soccer match unfolding on Wednesday afternoon at Field 48 of the National Sports Center in Blaine might have appeared to be a typical game between two boys' teams in the USA Cup. The prestigious youth tournament, with over 1,200 teams participating this year, has been drawing participants to Minnesota from around the globe for over three decades.
But for the young players from FC Minaj, a club based in the Ukrainian city of Uzhhorod, the game was more than just an early round matchup — it carried extra weight because of who was watching: back home, their families tuned in via a live stream, and on the sidelines, a group of Ukrainian veterans cheered them on. The soldiers had come to Minnesota on their own accord — they are part of the latest group set to be fitted with prosthetics by the Protez Foundation.
Dmytro Starikov, a Sergeant in the Ukrainian Navy SEALs who lost his right leg below the knee while fighting the Russian invasion in January, watched next to a group of local supporters who were holding a giant blue and yellow Ukrainian flag. Since the players' families couldn't make the trip to Minnesota, he and the other soldiers wanted to do what they could.  
"We're here to show that we, as Ukrainian soldiers and veterans, are here to support them, to show that there are people behind them," he told FOX 9 through a translator. 
FC Minaj dominates 
Starikov and the group of about five soldiers were treated to a show. FC Minaj is a small professional club that plays in Ukraine's top division, meaning that the U17 team participating in the tournament is composed of players who have aspirations of making the club's senior team and playing professionally.  This is the team's second consecutive year participating in the cup, and last year they lost in the final to Minneapolis' U16 team.
Cincinnati United grew into the game and showed moments of promise, but they are not at the same level within the American soccer system, and the gap showed. Lead by their spark plug of a number 10, Nazar Popovych, FC Minaj strung quick passes together all over the field, dominated possession, and pressed hard from start to finish, eventually winning 8-0. 
Andrii Ketsuk, a 16-year-old central defender, said the soldiers' presence inspired the players. 
"This was a great opportunity to show them what they fought for, we are very grateful that they could come here. We tried to represent them on the field and fight every second," he added. 
Bigger than soccer 
After the game, both teams gathered with the soldiers for a group photo. Ketsuk noted that the FC Minaj players are grateful for the support Ukraine has received from the United States, and they wanted to include their American opponents in their post-game concamerations.
For Drew, a 17-year-old midfielder with Cincinnati United, the moment was symbolic. "Although we're not necessarily fighting with them, we understand what they're going through, and we want to respect that and be there for them. It's bigger than soccer," he said.
A non-profit with chapters in the U.S. and Ukraine, Family of Christ International, funded the team's trip. FC Minaj's play next in the Quarterfinals, on Friday, July 21 at 9 a.m.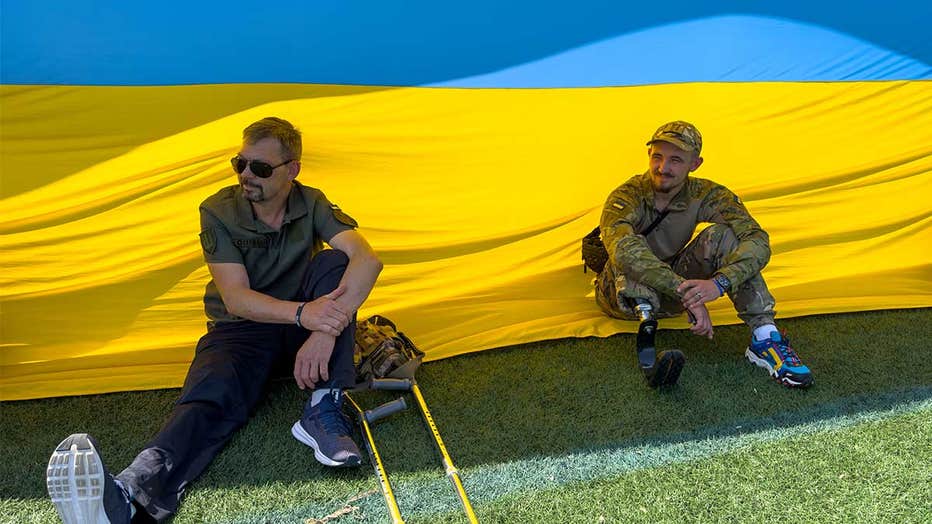 Ukrainian veterans, soon to receive prosthetics from the Protez Foundation, show support for the young players from FC Minaj during the USA Cup match in Blaine. (Photo courtesy of Family of Christ International)